Hays survey for Building shows that narrowing margins are limiting annual average salary increases to 2.8%
Salaries at UK contractors are rising at the slowest rate in five years, as the country's builders feel the effects of pressure on margins and a slowdown in workloads.
The latest contractors' salary survey, conducted for Building by Hays over the summer, shows overall pay across the sector increased by 2.8% in the year to July – compared with a rise of 3.2% the previous year. This year's figure was the lowest since 2014, when workers were enjoying an average pay hike of 7.4%.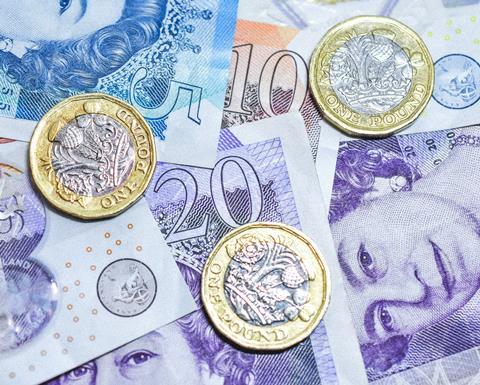 With margins at contractors struggling to go much beyond 2%, Duncan Bullimore, director of Hays' building division, said the modest average rise reflected firms' struggles to make a profit.
"Margins [are] being laid bare," he said. "I think there is a realisation that employees are working for firms that aren't full of fat cats and the business isn't creaming it at the expense of its employees."
>> Analysis: Contractors' salary survey 2019
Firms that have said they are keeping tabs on pay rises include Laing O'Rourke, whose finance director Stewart McIntyre told Building last month it was being "very careful" about salaries and added: "There haven't been pay rises across the board."
But the survey shows several roles are picking up industry-busting pay rises – including senior estimators, whose salaries rose 4.4% to an average of £60,750, and senior site managers, whose salaries rose 4.3% to £53,875.
Others picking up more than the industry average were contract managers and senior QSs, whose average pay packets now stand at £62,417 and £57,750 respectively after enjoying 4% rises this year.
Firms have been hamstrung by negative forecasts, with construction buyers last week staying pessimistic about the industry's prospects for the rest of the year.
KPMG recently said the number of construction firms going under in the third quarter of 2019 had jumped by 55%. The accountant's UK head of restructuring, Blair Nimmo, warned: "Unless clarity and confidence return to the sector, financial distress and increasing numbers of insolvencies are likely to prevail."
Last month the 75-year-old Lincoln contractor Simons shocked the industry by calling in administrator FRP Advisory, which said the company's demise had been hastened by "unsustainable cash-flow difficulties".
But despite the mounting worries, Caroline Gumble, chief executive of the Chartered Institute of Building, said rising wages remained an important factor in attracting people into the industry.
"We need to see higher levels of pay continue to make construction an increasingly attractive career choice," she added.
The survey showed that all the best-paid roles continue to be in London, with the biggest pay packet the £100,000 average that health and safety directors pick up in the capital.