The government is to set up a new industry group focusing on boosting the off-site construction sector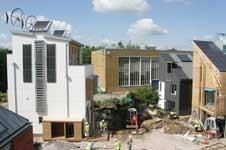 The move came as of the government's new housing and infrastructure growth push, announced yesterday, and will see a new industry-led group established, which will be jointly convened by the Department for Business, Innovation and Skills and the Department for Communities and Local Government.
In a statement to parliament yesterday, communities secretary Eric Pickles said the new off-site construction group would look "in detail at the barriers holding back the growth of this part of the sector and how increased use of such techniques can be incentivised".
He said the group would be asked to prepare a set of proposals by the time of the Budget next year, "with the aim of improving the efficiency of housing supply and unlocking high value jobs in the UK".
Off-site construction has long been promoted by the government as a means to streamline the construction process for new homes and was a major part of the previous Labour government's strategy following the Egan Review in 1998.