NAO report said bill for Liverpool hospital would be at least £724m
The final cost to complete the Liverpool hospital left stranded by Carillion when it went under two years ago will not be confirmed until March.
The client on the project has said it does not expect to submit a final business case for the Royal Liverpool hospital project for another two months.
Earlier this month a National Audit Office report confirmed it was still not possible to say how much work to finish the job would cost.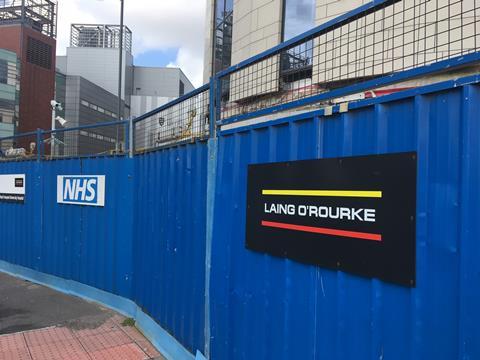 The public spending watchdog said there was still significant risk around the programme and cost of the Royal Liverpool hospital now being completed by Laing O'Rourke.
The job was originally due to have cost £350m but it has now gone up to at least £724m and the watchdog admitted: "There is no cap to the price of the remaining work, the scope of which is being finalised, and there are risks of further cost rises and time delays.
"Laing O'Rourke is acting as a managing contractor and is paid a fee to manage other contractors to complete the Royal Liverpool. Laing O'Rourke has no contractual incentives to manage cost."
Now the Liverpool University Hospitals NHS Foundation Trust has said the final plan to finish the project will be submitted to the NHS in March.
In papers published ahead of today's (Tuesday) trust board meeting it was also revealed that a majority of work carried out by replacement contractor Laing O'Rourke to this point has been to repair faults with the existing structure.
O'Rourke has inherited a number of problems on the scheme, including cracks in concrete structural beams, issues with ventilation in the operating theatres and non-compliant cladding having been fitted to the building.
As the managing contractor, Laing O'Rourke is responsible for identifying and rectifying issues with the hospital building and finalising the construction project by managing around 140 other contractors.
The trust said: "The main activity on the site remains the structural interventions, some of which were highly complex and unique to the project."
It also said the search for a solution to the cladding problems remained the main issue in terms of the potential impact on completing the project.