Exclusive: Costain and Sir Robert McAlpine joint venture tipped for final £200m civils job for the Hinkley nuclear power project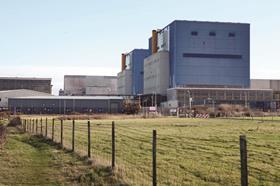 A consortium of Costain and Sir Robert McAlpine is the favourite to secure the final £200m civils job for the Hinkley nuclear power project.
According to several separate sources, the Costain/McAlpine joint venture is the only bidder left in the race for the £200m Marine Works job for the Hinkley power station, which is the last remaining major civils job on the project.
The news means that the two other remaining consortiums of Kier and Bam, and Balfour Beatty and Morgan Sindall, will miss out on the job, with the firms now told to stand down their bidding teams.
The Marine Works contract involves the construction of huge tunnels to channel seawater in and out of the nuclear power station complex, to cool the steam generated by the reactor. The inlet tunnel will be 3.3km out to sea with the outlet tunnel 1.8km offshore.
It is understood EDF will not sign a contract with Costain/McAlpine or even formally select them as preferred bidder before it decides whether to go ahead with the whole Hinkley project.
All parties declined to comment on the news, which comes amid further uncertainty about negotiations between the government and project client EDF over a deal to see the whole project go ahead.
This week it emerged EDF has made enquiries at the Treasury over the government's UK Guarantees scheme, designed to provide a public sector underwriting to infrastructure schemes to allow them to be financed.
The move comes amid a series of blows to the fledgling nuclear new build programme, with Cumbria council this month vetoing plans to establish a long-term nuclear waste storage site in the area, and Centrica withdrawing its investment support.
However, Building understands that serious negotiations between EDF and the Treasury over a UK guarantee will only start, if necessary, once a "strike price" has been agreed with the government for the cost of electricity generated.
Industry sources said that despite reports this week that negotiations over the strike price had broken down, a deal is still seen as likely by April, with the 19 March deadline for the government to approve EDF's planning application for the power station seen as a key date after which progress is expected.
Supply chain sources added that reports of costs rising from £10bn to £14bn, were likely to be in part a negotiating position by EDF, with the utility company still targeting a build cost of £8bn-£9bn in its conversations with contractors.