Appointment comes on back of initiative to target higher margin work after interim results woe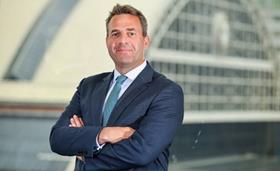 Costain has appointed its first chief digital officer with former Atkins director Nathan Marsh moving into the post.
Marsh, who spent three years at Atkins and was responsible for digital transformation at its UK and Europe business, will also join the firm's executive board and will be in charge of leading its commercial digital strategy.
Chief executive Alex Vaughan said the move had been made to "ensure that every service we offer is digitally optimised and that we offer our clients new solutions founded on the application of digital technology".
Over the summer, Vaughan launched an initiative to target higher margin work such as consultancy, digital technological solutions and asset optimisation.
In August, the firm said pre-tax profit slumped 58% to £8.4m in the six months to June. Revenue during the period was down 22% to £599m.
It said that underlying operating profit for the full year would also be down, coming in at between £38m and £42m, meaning its 2019 figure could be off more than a quarter from last year's £52.5m.
The firm blamed the costs of repair work at a scheme it completed more than a decade ago and delays to new work starting for the falls.