Analysts predict next bid could be made more attractive if construction group dips into cash pile
Analysts expect Costain to increase its bid for Mouchel, despite being rebuffed twice so far, as the saga of the potential takeover appears to be nearing its end game.
Costain made its first move for the embattled consultancy just before Christmas, valuing Mouchel at £118m, or 105.8p per share. This was rejected by Mouchel directors, who have fought to maintain the firm's independence since they fended off a £300m bid from VT Group early last year.
A further offer from Costain of £152m, 135p per share, was dismissed last week as an undervaluation of the business.
Analysts predict the current all-share offer could be sweetened if Costain were prepared to dip into its £120m cash pile. "Costain has a lot of cash on its balance sheet and some of this could be used to help make the deal more attractive.," said Andy Brown, an analyst with Panmure Gordon. "It [Mouchel] looks like a good fit and would complement Costain's existing business."
Chris Banbury, an analyst at KBC Peel Hunt, agreed: "I think they will come back. They can squeeze Mouchel up to 150-155p a share. It also depends on whether they find anything they don't like when doing the due diligence."
Other firms regarded by the City as potential suitors include Capita, Balfour Beatty and Serco, although none are thought to be involved, or expected to make a counter offer, at this stage.
According to bid documents, Costain believes that if a takeover went ahead the combined organisation would be able to "meet the increasing demands of blue chip customers who are consolidating their requirements into larger, longer-term bundled or multi-disciplinary contracts".
The combined group would have revenues of more than £1.6bn, based on the two firms' most recent financial year ends, catapulting it into the top 10 construction and consultancy firms in the UK. This increased size could help win contracts as clients seek to do business with larger, well financed, companies.
Mouchel's share price reached its lowest point of 56.5p in December 2010 - a fall of 79% from its peak last year.
On the cards: The Mouchel takeover
Turnover of the combined group (£m)
A combination of Costain and Mouchel would create the UK's ninth largest contractor, by revenue. It would immediately diversify both firms' revenue streams, giving Costain exposure to high growth areas, which can be better exploited by a firm with more solid finances. The combined firm's order book would approach £4bn.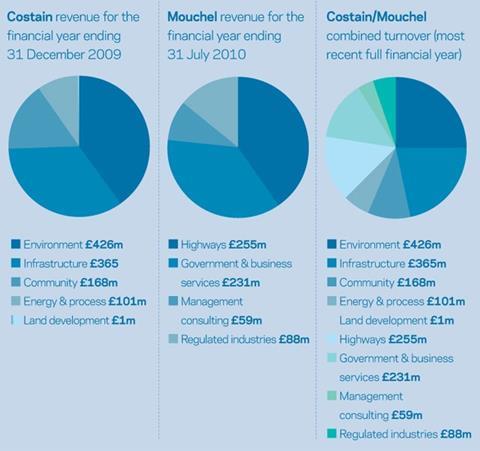 Timeline of decline: From a £300m bid to one for £152m
Mouchel's share price has plummeted over the last year. Its managers have a lot to prove after turning down a rival bid, less than a year ago, which valued the firm at twice the price Costain has offered. This could be behind their determination to remain independent. A review of Mouchel's business is being undertaken by Deloitte and the result of this could be a determining factor in the tussle for control of the group.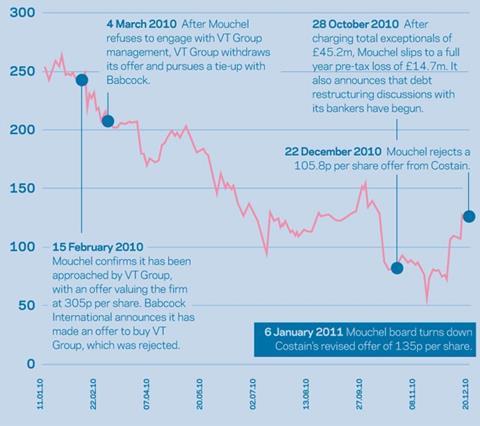 Head to head: Andrew Wyllie Richard Cuthbert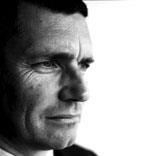 Chief executive, Costain
Age: 47
Pay: £697,500
Wyllie has acquired a reputation as a straight-down-the-line chief executive who rarely gives away anything about his personality when speaking to analysts or journalists. His reputation is solid, but not sparkling. As one analyst says: "He's not the first person you'd think of as a real star CEO. There are some that you think, if they can't do it, no one can. But Wyllie isn't one of them."
But underneath it, says one source close to Wyllie, is a figure aggressive enough to want to secure Mouchel for reasons other than business. "He'll be enjoying the rough and tumble of it," they say. "He might get carried away with a rush of blood to the head [over the purchase]."
At 47, 10 years younger than his opposite number, Wyllie is "not as jaded as Cuthbert," says the source. And with his career very much in the ascendant, this could make a deal more likely.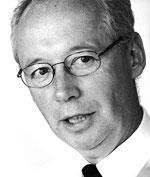 Chief executive, Mouchel
Age: 57
Pay: £405,000
"Very likeable, blunt, no nonsense," is how one source who knows Cuthbert describes him. But the strain of running Mouchel has taken its toll. "Over the years people have seen his confidence ebb away with one announcement after another."
Some analysts question whether Cuthbert has been too prone to bullishness in the past, piling into Dubai just before that market failed, for instance. "He's desperately been talking up the independence story," said the source. "He fought very hard to see off VT Group … [If Mouchel is sold] it will come as a blow." Some analysts think Cuthbert's concern for his legacy may increase resistance to a deal. But Stuart Black, who was a director at Mouchel Parkman in 2007 alongside Cuthbert, insists he "will do what is right for the business".