Firm says Greater Manchester waste deal now in the past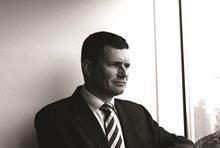 Costain said it has finally drawn a line under its loss-making waste management deal as the firm's pre-tax profit jumped a quarter last year.
The firm won the £400m contract to design and build 43 facilities across 27 sites as part of Greater Manchester Waste Authority's £3.8bn waste management project a decade ago but suffered a series of losses after mired in snagging work.
But last August, the firm said it had agreed a deal with operator Viridor Laing to finish up work the following month.
In its results announced this morning, Costain said it had now left the job completely and that provisions on the PFI deal had already been accounted for.
The news comes as the firm, which is redeveloping London Bridge station for Network Rail and which is shortlisted to build the new HS2 station at London Euston, posted an improved set of numbers in 2017.
Chief executive Andrew Wyllie (pictured) said revenue was up 4% to £1.7bn while pre-tax profit was up 25% to £38.9m.Its order book at the year end was £3.9bn.
But margins at its largest division, infrastructure, which includes its road, rail and nuclear work and accounts for 80% of its turnover, slipped from 4.4% to 3.8% with the firm blaming high bid costs and the timing of returns on contracts. Costain said it expects margins to return to be within its 4%-5% target this year.
Its smaller natural resources division, that includes water and power and which saw income decline to £344m from £377m in 2016, returned to make an operating profit of £4.8m after the Greater Manchester contract helped keep the division in the red in 2016.
But the firm's Spanish operation, which includes a marina and two golf courses in the country's southern tip, doubled pre-tax losses to £1.4m.
Its accident frequency rate was its lowest recorded but the firm admitted it needed to keep on top of safety after a number of "serious safety incidents".
It added its gender pay gap was 23.8% as a result of having fewer women in senior leadership positions.