Interims will come out after arbitration decision on A465 is made next month
Costain has delayed its interim results announcement by nearly four weeks as it awaits an arbitration decision on a problem road job in south Wales.
The firm had been due to announce its interim results this Wednesday but these have been pushed back to 14 September.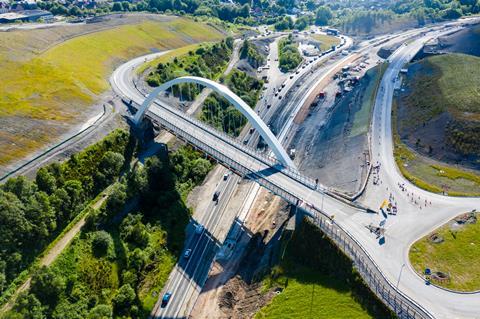 Last December, the contractor said an arbitration ruling about a row with the Welsh government over the A465, which runs between Gilwern, near Abergavenny, and Brynmawr, near Ebbw Vale, had reversed an initial adjudication which had found in Costain's favour.
The firm, which was forced to book a £37m hit on the scheme in its 2019 results, is upgrading a five mile stretch of road from a single three-lane carriageway to a dual two-lane carriageway with work due to finish next year.
The road runs through undulating countryside and was hit by bad weather last winter.
In a trading update this morning, Costain said it expects the latest arbitration decision on the scheme to be made no later than 9 September – meaning the results announcement will be made after the decision is published.
It added: "Although our view on the outcome of the arbitration is unchanged, the decision will enable Costain to more accurately report on the financial position of the contract."
The firm said it is also chasing £49.3m in missing money on another problem contract after the firm earlier this year warned that costs on the scheme for National Grid in eastern England had doubled.
The firm won the £113m deal in November 2016 to upgrade compressor stations in Peterborough and Huntingdon.
But in its 2019 results, the firm said the job had turned sour and warned: "Costs on the project have doubled due to additional scope and at this stage only a limited proportion of the associated £90m reforecast outturn cost has been formally agreed."
In this morning's update, Costain confirmed it will be fully off the job by the end of this month but said it has not been paid for work totalling £49.3m.
Costain, which said it was pulling out of bidding similar jobs in the future, said: "The Group continues to believe that it has a strong entitlement to recover this sum which is subject to successful pursuit through adjudication and potentially litigation."
The firm said it would make a one-off charge for the figure in its first half results.
It added that it has sold its stake in a 624-berth marina in southern Spain, close to the Gibraltarian border, for €4.75m (£4.2m) but at a loss of £600,000 which would be included in its first half figures. The firm, which jointly owned the marina with Spanish bank Banesto, said the deal meant it had now sold its non-core assets in Spain.
Chief executive Alex Vaughan said the firm would report an operating profit of £5.7m before the A465 and National Grid contracts while its net cash at the end of June was up to £140.9m, following the £100m capital raise in May, from £40.8m for the same period last year.
It said that over £2bn of contracts and frameworks were confirmed and secured in the first half with its order book standing at £4.2bn at the period end.
Analysts gave a mixed response to the announcement with a note from Liberum saying the make-up of its order book was a strong point: "Costain is 95% exposed to government and Regulated Industries. A variety of contracts such as HS2, Smart Motorways and AMP7 increase the visibility at Costain, particularly given that most of the work relates to the next five years. We believe that the work is being won on good commercial terms and it should help Costain to focus on higher margin services."
But Cenkos analyst Kevin Cammack said: "Management has reassessed risk-based contracts in the light of both the A465 and [National Grid] and will no longer seek Energy EPC contracts whilst strategically focussing on long-term investment programmes rather than one-off capital projects. That's all well and good but is essentially turning its back on a large pool of potential workload and raising the stakes on its ability to win work successfully in its narrower confines – albeit busy sectors at the present time. I rather worry that Costain seems to be abandoning sectors and work streams whenever it has a bad experience rather than getting to the root of why it fails in these areas."