The £9m scheme is now expected to cost at least £33m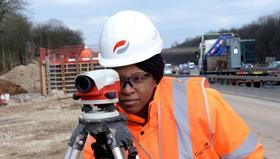 The price of a Galliford Try road scheme in Derby has more than doubled in less than a year.
Galliford Try started the £9m A52 Wyvern Transport Improvement Scheme (pictured) for Derby City Council last year, but an update from the council has revealed it is braced for a revised budget of £33m and a delay in the original completion date of February 2019.
Problems with the project were first identified in May, which led the council to carry out a review of the job.
Carole Mills, chief executive of the city council, said: "In May this year, issues were identified with the scheme. This included differences between the budgeted costs and the emerging estimated committed costs, which resulted in potential delays in delivering the scheme.
"At the time, the new administration said that the council would review the serious issues with the project, with a view to presenting a more accurate revised figure and timescale to Cabinet in September.
"This review has made clear that the difficulties with the project are more complex than originally envisaged and, to move the scheme forward and ensure that works continue in a timely manner, it is necessary to increase the operational approved budget to £33m. We are working hard to produce a final scheme cost estimate by late autumn."
The council said an investigation is being carried out by its independent audit service. Mills said the results of this review would be reported to cabinet once it was complete.
The news emerged less than two weeks before the firm releases its full year results with the firm expected to announce more losses on its scheme to build a road around Aberdeen.
But Cenkos analyst Kevin Cammack said the Derby news was less concerning given "it looks like the client is taking some responsibility for the complexities behind the delays and over-runs".
Earlier this summer, Galliford Try was appointed to take over from Carillion, one of the firms building the Aberdeen road, to complete the bust contractor's work on the Lincoln Eastern Bypass. The job will now cost £120m, 25% more than predicted, and finish six months later than planned when it opens in summer 2020.