Scheme will be built at former factory in Essex town
A £110m plan by PRP Architects to build a new film studios in Dagenham has been approved by local councillors – paving the way for poential operators to firm up bids.
The scheme is being masterminded by Barking and Dagenham's regeneration company Be First which has pledged more than £3m to cover any pre-development costs.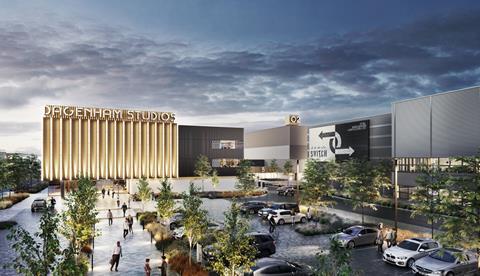 Be First, which is masterminding a £1bn revamp of the area, said it was in talks with joint venture partners about the studios (pictured) and managing director Pat Hayes added: "We've had a great deal of interest in the site and with planning permission secured the interest will intensify." Be First said it could end up building out the site and leasing it back to an operator.
Last autumn, the original preferred bidder to run the site pulled out citing the then impasse over Brexit.
Pacifica Ventures, the Los Angeles-based studio behind the hit TV series Breaking Bad, was made preferred bidder for the site in 2018.
If the scheme is approved by London mayor Sadiq Khan, building work could start next year.
It will be built at a 20 acre plot opposite Dagenham East train station at a site previously occupied by French pharmaceutical firm Sanofi.
The Made in Dagenham studios will eventually include six sound stages, training facilities, amusement attractions, shops and restaurants.