New scheme looks set to replace towers with 17-storey block
The mayors of Hackney and Tower Hamlets have indicated they will give their backing to the new scheme being drawn up for the contested Bishopsgate Goodsyard site.
The most significant change is the loss of the 46-storey residential towers which Building's sister title BD understands are to be replaced by a single block of about 17 storeys, which is roughly twice the height of the surrounding fabric of Shoreditch.
No designs have yet been released but a public consultation is slated for early next month with the developer hoping to submit plans this side of Christmas.
Nick Perry, chairman of the Hackney Society, who has been briefed by the developer on the emerging plans, said the towers will be replaced by a "single mass of what looked to be about 17 storeys".
He added: "This is a huge leap forward towards getting the site redeveloped. It was difficult to find anyone outside of the joint venture's team who genuinely thought the previous scheme was sensible." Three other towers of 26, 30 and 38 storeys were also proposed.
Philip Glanville, Hackney's new mayor, said in a council newsletter: "The council has been discussing with the GLA, Tower Hamlets council and the developers how they could work more collaboratively on changes to the original proposals for Bishopsgate Goodsyard.
"An approach has now been agreed, meaning all parties, alongside residents, businesses and interest groups, can start progressing together a significantly amended application more suitable to this important site in the heart of Shoreditch."
And Tower Hamlets mayor John Biggs also welcomed the developer's decision to rethink the scheme.
"As far as the changes are concerned, we have only seen limited information and while it looks like the proposals are addressing some of the previous concerns, more details and clarity will be needed. The scale appears to have been reduced but we would like clarity on details."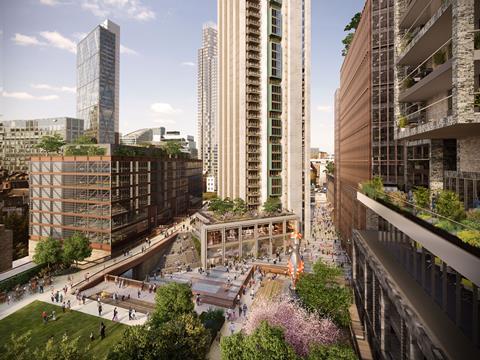 Both boroughs campaigned against the previous scheme after the decision was taken out of their hands by the then mayor of London, Boris Johnson.
Last month it emerged that the developer, a joint venture between Hammerson and Ballymore, had dropped the most controversial element, blocks of flats soaring to 46 storeys designed by PLP, and removed 1,000 flats.
A spokesperson for the developer said: "We are continuing to have constructive conversations with the teams at the GLA and both boroughs and will be continuing our consultation with the local community and other stakeholders over the coming months."
PLP has now left the project but the other architects remain. It is being masterplanned by FaulknerBrowns which is also designing residential and workspace elements. Buckley Gray Yeoman is designing two office buildings while Chris Dyson is working on the heritage elements. Spacehub is behind the public realm.