Housing minister Brandon Lewis says government will take over local plan-making in "early 2017."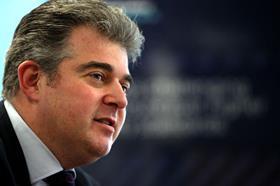 Councils will have until the start of 2017 to produce local plans or face central government stepping in and doing it for them, housing minister Brandon Lewis has said.
Lewis told Parliament in a written statement that plans to take over the responsibility for producing local planning documents from councils that have not produced them, announced two weeks ago, will take effect from "early 2017." Although Lewis gave no exact date for the introduction of the powers, Building understands January 2017 will be the cut-off date.
Lewis said the deadline would mark five years since the reform of the planning system through the introduction of the National Planning Policy Framework (NPPF), which brought in a presumption in favour of sustainable development. He said: "In cases where no Local Plan has been produced by early 2017 – five years after the publication of the NPPF – we will intervene to arrange for the Plan to be written, in consultation with local people, to accelerate production of a Local Plan."
Lewis also repeated government plans, also revealed two weeks ago, to strengthen the duty of local authorities to co-operate with neighbours where it was not possible to supply all the housing needs of their area locally. He said: "Local authorities cannot plan in isolation. Where local authorities cannot meet their housing needs in full, they should co-operate with other local authorities to do so. We will strengthen planning guidance to improve the operation of the duty to co-operate on key housing and planning issues, to ensure that housing and infrastructure needs are identified and planned for.
"It is particularly important that this co-operation happens where our housing needs are greatest."
Lewis said these measures would help to accelerate housebuilding over the next five years.