Bardon site being marketed as a 'state of the art panel manufacturing line'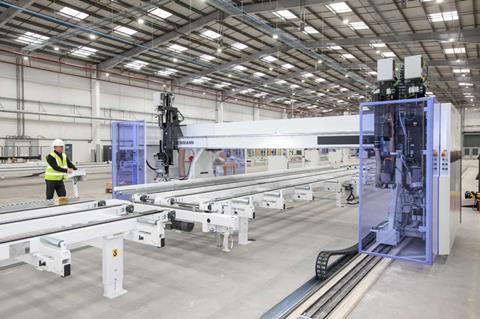 Countryside has put its brand new modular factory in Leicestershire for sale in a move that the firm hopes will reduce loses to its manufacturing business.
Countryside confirmed it would shut the factory last month despite having spent £20m to set it up last Autumn. It has now put the facility on the market.
The factory was expected to produce up to 3,500 homes a year but at the start of the year the housebuilder's modular business was identified as a major source of loss for the group.
Potential buyers are expected to express their interest before the 16 September and put in offers by 23 September.
Property sales agent Walker Singleton is marketing the Bardon factory on behalf of Countryside. Its sales brochure said: "The entire plant is a state of the art panel manufacturing line, installed in 2020/2021, enabling the manufacture of closed panel timber frames, embracing modern methods of construction."
>> Also read: Why are we struggling to make modular work?
Walker Singleton's said it had "been instructed to invite interest in the entire Homag/ Weinmann closed panel timber frame panel line, along with the Dodd Engineering floor cassette line".
The Bardon site was the newest of three MMC factories owned by Countryside. In its half year results to 31 March this year, the firm reported losses of £6.5m from its manufacturing businesses, of which, it said, approximately £3m was in relation to the new facility at Bardon. In April it said it was cutting staff at its MMC sites and reviewing "all options".
Offers for the site must be made in writing, and allow time for clearance, dismantling, collection and removal of the assets.
See a marketing video for the factory below.