Trade body's audit finds seven tasks impossible to do safely
The trade body responsible for the fit-out sector has created a new safety protocol to help the industry continue to work during the covid-19 pandemic.
Finishes and Interiors Sector (FIS) set up a task group to review methods of work and assigned a traffic light rating – red, amber or green – to each task.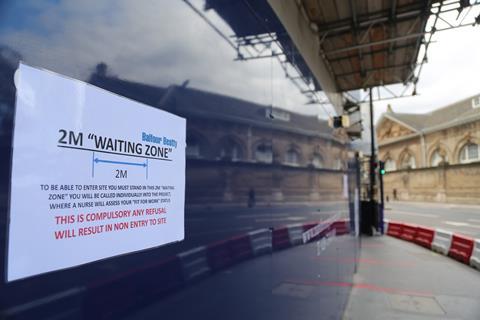 The group reviewed common tasks in the sector through a detailed survey, the results of which identified seven tasks it labelled red, where the 2m social distancing requirement cannot be met, and 32 tasks where significant change to the process is required, leading to an amber rating.
The remainder could be performed with relatively simple changes and were rated green.
Red tasks
Manual handling involving two or more people

Manual handling for fixing permanent fire doors

Working at height for task requiring two people on a work access platform

Installing drylining partition walls. Boarding over 3800mm as this requires two people on a single access platform, tower, or podium

Install glass components second fix as this requires two people

Rendering application of thin coat render mean 2m distance cannot be maintained when applying the topcoat due to curing times to enable the correct quality finish

Second phase installation of operable partitions
The risk assessment tool collates data and provides a suggested review of existing methods of working and controls for the 2m rule.
The task group is meeting virtually every few days and is supported by more than 30 health and safety experts from the sector.
While new tasks can still be reviewed against the criteria, the focus of the group is now on developing clearer information on appropriate PPE, reviewing innovative ideas and exchanging and sharing best practice in order to support safer working across the sector.
These resources are all available through the FIS website.
Four-step covid-19 safety protocol
Start Safe – Essential information for workers and guidance on travelling to site
Site Safe – Building on requirements in the Construction Leadership Council's (CL) Site Operating Procedures
Task Safe – Assessing tasks against the 2m working rule
Home Safe – Advice on decontamination processes