But group warns over waning commercial activity and materials shortages
Construction output is forecast to grow more than 10% this year but overall output will not return to 2019 levels for at least another 12 months, according to the latest economic predictions.
The spring forecast from the Construction Products Association (CPA) issued this morning said it expected to rise by 12.9% this year and 5.2% next.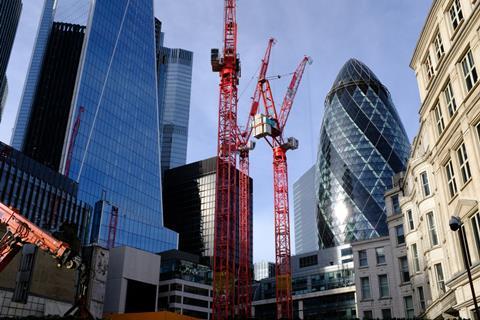 But this year's growth figure has been revised down from the initial 14% outlined in the CPA's winter forecast – although next year's estimate is up from the 4.9% predicted last time.
Infrastructure is expected to see the highest level of growth this year with a record 29.3% thanks to the ongoing work on the HS2 railway as well a slew of jobs in the water, roads, electricity and broadband sectors.
The CPA said it expected housebuilding output to grow by 14% this year, after dropping by a fifth in 2020 following the spring lockdown.
However, while the body forecast that private housing output will return to pre-covid levels by 2022, output overall, including affordable housebuilding, is forecast to remain below 2019 levels until 2023.
And commercial activity is expected to be 10.5% lower by the end of 2023 than in 2019 and the CPA's economic director Noble Francis added: "The recovery in commercial – the third-largest construction sector – is expected to be muted given a lack of major investment in new projects, particularly in central London.
"Questions remain over future demand of commercial space, particularly in offices and retail, which may be converted into residential or warehousing and logistics, if homeworking and online spending persists in the long-term."
Francis said materials shortages also threatened to choke off construction's recovery with the CPA joining other groups recently, including the CIPS and Construction Leadership Council, in warning hold-ups could hit jobs soon.
He added: "There are significant risks to the recovery in the form of supply constraints in terms of extended lead times and sharp rises in costs for vital imported products such as paints and varnishes, timber, roofing materials, copper, steel and polymers. This may hinder the ability of construction activity to increase in line with our forecast."
The CPA said the winding down of several government initiatives to kickstart recovery in the sector, such as the stamp duty holiday in housing, and the ending of the furlough initiative this September also threatened to put the brakes on the ongoing recovery.