Local media say crane collapsed this morning while being dismantled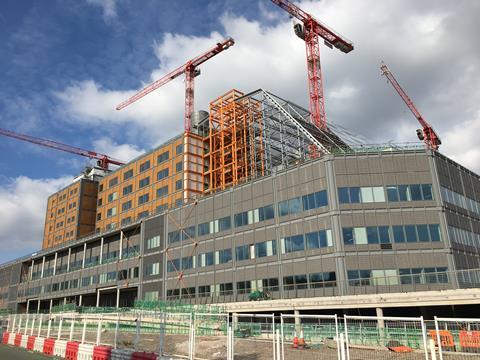 A crane has collapsed on the site of the Midlands hospital that was being built by Carillion before the firm went bust.
According to reports from the Express and Star, one of the tower cranes on the Midland Metropolitan Hospital site collapsed as it was being dismantled.
The report said firefighters were called at 11.40am today (9 April) after a 66ft section fell onto a flat roof at the site in Smethwick, with the West Midlands Fire Service saying crews had described it as being in a "precarious position".
It also said another crane section "remains unstable".
This is the scene at the Midland Metropolitan Hospital site after a crane collapsedhttps://t.co/R9zJ4HMa6N

— Express & Star (@ExpressandStar) April 9, 2019
According to the paper, Sandwell and West Birmingham Hospital NHS Trust, which is responsible for the project, said it was aware of the collapse and had been notified that no-one had been harmed.
A spokesperson from Balfour Beatty, who has been working on site under an early works contract since October last year, said: "We can confirm that an incident took place on our Midland Metropolitan Hospital site [today] whereby a section of crane fell while being dismantled.
"The health and safety of the public and our workforce is always our primary concern and we can confirm that no one was hurt as a result of this incident.
"The surrounding area was immediately secured and works have now ceased on site while the crane section is safely removed, after which works will resume.
"An investigation is on-going into the cause and therefore it would be inappropriate to comment further at this time."
Today's incident comes a month after the trust announced the tower cranes had completed their work and were ready to be taken down.
Photos (above) taken last weekend by Building showed four tower cranes were still on the site.