Housebuilder hopes to have 450 units in off-site production by 2020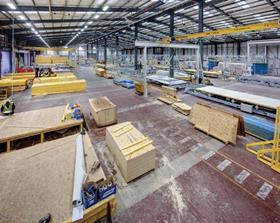 Crest Nicholson hopes to build around 15% of its homes using off-site manufacturing by 2020, after scaling up trials of the production technique in the next 18 months.
After announcing first half results yesterday, which saw pre-tax profit slip 2% to £61m, the housebuilder said it was aiming to have 450 off-site manufactured homes in production within two years.
It told analysts it was progressing with its new core house type range, which would be delivered using both traditional and off-site techniques.
The group said it was planning to scale up off-site production trials and hoped to build the first apartment units over the coming 18 months, with 300 in production next year and 450 in 2020.
Last year Crest built a total of 2,935 homes.
The firm also shed more light on its decision to shut its London operation and re-open a south-east division.
It said central London investment was "not financially attractive" and its exit from the zone 1 – the heart of the capital – was "almost complete".
Land prices had been "increasingly stretched" and sales in the area had had a high dependency on Help To Buy.
A new office in Kent would work with its three existing M25 operations to address what it called "outer London opportunities".
Crest said the move positioned it to drive better financial returns "while retaining operational flexibility" in outer London.