Housebuilder says 2018 figure at bottom end of forecasts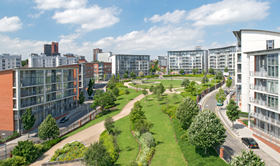 Crest Nicholson has warned that margins this year will at the bottom end of its forecasts.
In a trading update, the housebuilder said operating margins for the year will be 18% which it said was at the lower end of its 18-20% range.
In January, it reported operating margins of 20.3% for 2017 and Cenkos analyst Kevin Cammack said the revised figure for 2018 was down on the 19% predicted earlier this year.
He added: "Crest's pre-interim close [statement] will be infamous for one reason alone – the revised guidance on margins. Moreover, it is flagging a similar level for Fy19."
In a trading update ahead of its interim results for the six months to the end of April, the firm blamed a 3-4% increase in building costs and "the experience of generally flat pricing".
It said completions in the first half were up 18% to 1,251 while the average selling price was up 5% to £493,000. It said revenue would grow more than 15% for the full year.
The firm will unveil its half year results on 12 June.
Yesterday, Taylor Wimpey said it planned to maintain margins at 21-22% over the next five years and announced a special dividend for 2019 of £350m taking dividends next year to £600m.