Trading Standards launches investigation into allegations of Green Deal fraud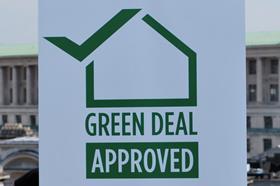 Watchdog Trading Standards has launched a criminal investigation into allegations of people using the Green Deal as a cover to try and defraud householders.
Caerphilly Trading Standards said it had received 17 complaints of people knocking on doors claiming that homeowners were entitled to around £10,000 of funding for home improvements and that the improvements would be free.
The householders were then asked them for an "administration fee" to undertake various tasks on behalf of the householder.
Green Deal firms have to go through a registration and accreditation process before they can use the Green Deal Accreditation logo and offer to do Green Deal work.
But Tim Keohane, senior trading standards officer in Caerphilly, said none of the people under investigation were registered under the scheme.
The punishment for the alleged offences under the Fraud Act 2006 and the Consumer Protection From Unfair Trading Regulations 2008, ranges from fines to ten years in prison.
Keohane said: "When the Green Deal was announced by the government the first thing we thought is that there would be some unscrupulous people who would take advantage of this."
He said fraudsters would "latch onto anything" as a "vehicle to part people from their money" and that the complaints had come from across a wide geographical area.
Liz Male, chair of quality monitor TrustMark, said: "It's really important that the Green Deal Oversight Body, and Trading Standards clamp down on this sort of activity very quickly because at the single thinking that could damage the Green Deal most at this stage is if a big national story breaks that there's a fraud going on."
She added that consumers needed to be "wary" of people offering "special deals or telling them that their property is unsafe and needs urgent work".
Brian Berry, chief executive of the Federation of Master Builders, said the government needed to more to promote the Green Deal to ensure consumers had knowledge of the standards to protect them from fraud.
He added: "This [type of scam] undermines the reputation of the building industry. Image is very important and it [fraud] gives the public less confidence in using builders in the future."