London Assembly estimates proposed £12bn scheme would deliver £49bn boost to city's economy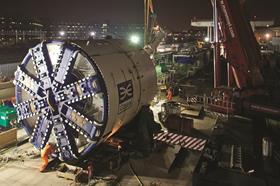 The proposed £12bn Crossrail 2 project could deliver a £49bn boost to the London economy and further increase housing and commercial development in the capital, a London Assembly report has concluded.
Transport for London and Network Rail are consulting on plans put forward by London First for a £12bn Crossrail 2 scheme, which would run from Epsom in the South-west of London to Cheshunt in the North-east.
The London Assembly Transport Committee's submission to the consultation on the plans backed a regional scheme running to the outskirts of London that it said would increase private investment in the city.
The report said: "Crucially, a new rail link would increase the connectivity and attractiveness of many residential locations for commuters."
However, the committee also said that the project needed to be built soon to realise its full potential.
The report said: "According to Crossrail's chief executive, if construction of Crossrail 2 follows closely behind Crossrail 1, there would be opportunities to capitalise on the technical expertise and skills already in place; the same skills required to plan, design, and construct Crossrail 2."
Valerie Shawcross, chair of the transport committee, said the development would also ease overcrowding.
She said: "London needs a transport network that can cope with the millions of extra passengers that will travel on our tube and trains in future."
The committee found that London's population is predicted to increase to between 9.3m and 10m by 2031.
Shawcross added: "Crossrail 2's construction should be the catalyst to realise London's Olympics regeneration dream.
"Improving transport links to the Lea Valley alone could have the potential to boost London' economy by £4 billion, showing what a world of difference this could make to disadvantaged parts of London.
"We must all get behind Crossrail 2 to ensure London has the transport it needs for its future growth."
However, the committee said more information was needed on the trade off with existing capacity, which might be lessened under the plans, and more information was needed on how the route options had been scored against each other.