Contract was ended last night
Crossrail and the Costain Skanska joint venture building the project's problem Bond Street project have parted ways – despite the station being the only Crossrail terminus not ready for the next stage of testing.
A spokesperson for the joint venture, known as CSJV, confirmed the split saying that in the light of covid-19, Crossrail had been reviewing and restructuring any works that are essential to opening the railway and to ensure it completes the Elizabeth line successfully.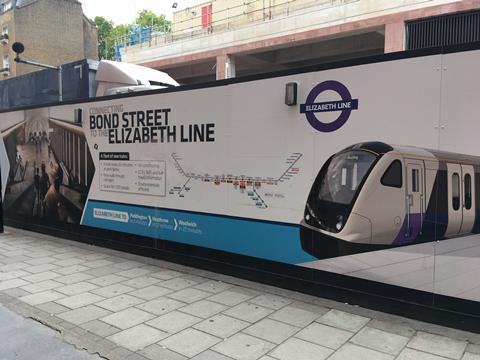 She said: "This includes work at Bond Street which is uniquely affected by the covid-19 crisis, due to the number of operatives required on site to complete the station.
"Crossrail will now consider plans for any future works in a post covid-19 environment. As a result, Crossrail and CSJV have mutually agreed to conclude the joint venture's works under the existing contract as of midnight on 24 June and will work together to mitigate costs and to ensure a safe and effective transition."
Crossrail will oversee completion of the remaining works in-house, while Engie have been contracted to undertake care and custody and security arrangements at Bond Street.
A Crossrail spokesperson also said the change had come about as a result of a covid-19 review.
He said: "Crossrail Ltd will be putting in place new arrangements to complete the works which largely relate to fit-out and testing and commissioning activity.
"Despite the significant challenges covid-19 brings our focus remains on doing everything we can to open the central section between Paddington and Abbey Wood as soon as possible and the earliest possible opening for Bond Street."
CSJV will continue as main contractor on its other Crossrail station job, Paddington.
Crossrail's frustration with the two firms emerged last year with the railway's board calling for "expected and necessary" leadership changes at the Costain/Skanska joint venture building the scheme.
Minutes from the June 2019 meeting of Crossrail's board publicly revealed the escalating tensions between the railway and CSJV.
Referring to the then recent change of chief executive at Costain the month before, where the retiring Andrew Wyllie was replaced by Alex Vaughan, the papers added: "The board noted that further change in leadership within CSJV was necessary and expected."
It declined to spell out what these were but the minutes revealed Crossrail has brought in a new project team consisting of a senior project manager, senior commercial manager and senior construction manager. A principal delivery engineer also started in the last week of June.
Problems on the Bond Street project had previously meant the station would not open in line with the rest of the railway, but this has since changed, with Crossrail signifying its intention to open the full central section at the same time.