Whistleblower claims concrete workers were exposed to unsafe conditions before last month's fatality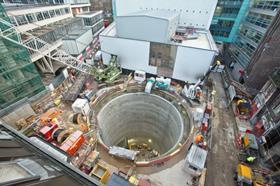 Concrete workers on the £15bn Crossrail project were exposed to unsafe working conditions in the year leading up to a fatality caused by a falling concrete slab last month, a memo leaked to a local newspaper has claimed.
The memo, sent by a whistleblower to Camden's West End Extra newspaper, warns of "hazardous and unsafe working conditions" for staff spraying concrete onto walls underground.
Rene Tkacik, 43, was killed by a falling slab of concrete at Crossrail's Fisher Street site in Holborn on 7 March while spraying concrete through a hose, a process known as "shotcrete".
The whistleblower's memo catalogues health and safety incidents involving Crossrail "shotcrete" workers on two separate Crossrail jobs at Whitechapel and Finsbury Circus in 2013 and warns of:
Tunnel workers being set to work under freshly applied shotcrete.
Multiple shotcrete falls from a roof in a cross passage.
An employee sustaining multiple broken ribs from exposure to unsafe shotcrete pipes.
The contractor consortium at Whitechapel and Finsbury Circus is BBMV, made up of Balfour Beatty Civil Engineering, Alpine BeMo Tunnelling, Morgan Sindall and Vinci Construction.
A spokesperson for BBMV joint venture said: "BBMV always take all safety concerns or suggestions for improvement seriously. The concerns raised by this individual were already addressed, being addressed or investigated as appropriate at the time.
"There are specifics within this individual's account that have no foundation in truth. As an example, our construction methodology for the application of shotcrete with mandatory exclusion zones does not allow for the incidents detailed to occur.
"The HSE has visited our Finsbury Circus and Whitechapel sites as part of their Crossrail inspection programme and are fully satsified with our arrangements."
A spokesperson for Crossrail said: "Crossrail has a good safety record and sets the most stringent safety requirements.
"We encourage anyone working on the project to report any incidents however minor. The excavation of ground and spraying of shotcrete to construct tunnels is an established construction industry practice and has been used safely over many years.
"Crossrail requires contractors to establish an exclusion zone and use robotic spraying equipment when using shotcrete."