Client launches initiative to train supply chain members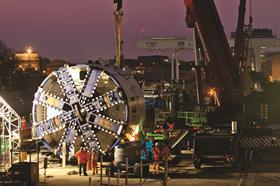 Crossrail has launched a "BIM academy" to train its supply chain members in use of building information modeling.
The client said it hoped BIM skills developed on Crossrail would benefit future infrastructure projects such as HS2.
Crossrail said it also intends to establish an industry panel to promote BIM collaboration and best practices.
Andrew Wolstenholme, Crossrail's chief executive, said: "Crossrail is pioneering the use of building information modelling in Europe on a scale that has not been undertaken before.
"This has directly enabled us to develop innovative engineering design solutions, minimise waste and reduce future costs for maintaining the railway.
"The academy will support the Government Construction Strategy by increasing the use of BIM in the construction industry and creating a lasting legacy of best practice in innovation."
Crossrail is running the academy with training provider Bentley Systems.