Leading architects including Richard Rogers warn over lack of design scrutiny on £15bn project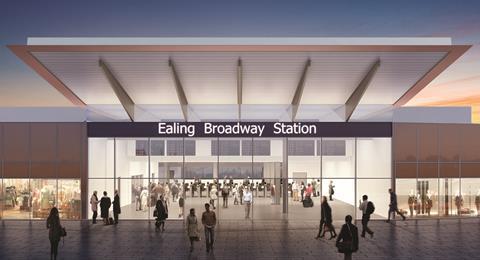 The design of 27 surface stations on the £15bn Crossrail project is not being reviewed by independent experts, sparking warnings from leading architects and local authorities that rail bosses are missing a once-in-a-century chance to produce well-designed stations that will stand the test of time.
Since 2009, a dedicated Crossrail design review panel, set up by Design Council Cabe, has provided independent oversight on the eight new-build central London Crossrail stations, plus new stations at Abbey Wood and Woolwich.
Crossrail says the central London stations - by architects including Foster + Partners and John McAslan - feature "world-class design" and build on a legacy stretching back to Charles Holden's pre-war Tube stations and Brunel's Paddington.
However, Building has learned that Crossrail has chosen not to employ the design panel on the 27 redeveloped stations on the main surface section of the line, which stretches from Maidenhead in the west to Shenfield in the east and is managed by Network Rail as well as Crossrail.
This has sparked warnings that rail bosses are missing a once-in-a-century chance to produce well- designed stations.
Mark Lucas, head of planning and regeneration at the London Borough of Redbridge, which will have four Crossrail stations, said it was "very concerning" that such developments would not be independently design reviewed.
He said: "There is still time, but the door is closing. We're in the last chance saloon.
"The last time stations on this branch of the tracks were created was in 1839, when the Victorians built them.
"When you're talking about something which should be lasting a century and a half, we really should be applying the greatest possible design scrutiny."
Architect and Labour peer Richard Rogers said he was deeply concerned that Crossrail would not live up to the country's "great railway heritage" and vowed to lobby MPs on the issue.
"There has to be somebody who knows something about [design] looking at this," he said. "This is immensely serious because [poor design] could scar the community which uses a station for a century or so.
"These are very important public buildings, which millions will travel through."
A spokesperson for Cabe said the design panel "would welcome the opportunity to be involved in planning the remaining stations" so that "the vast knowledge that we built up around Crossrail also [benefits] towns and communities along the entire route".
But a spokesperson for Crossrail said: "A huge amount of time, effort and planning is going into delivering surface station enhancements.
"We believe that these improvements can be satisfactorily designed and delivered by working directly with local authorities."

Expert concerns
Will Alsop, architect of North Greenwich station, Jubilee line extension
"Stations should be uplifting, durable and beautiful. If Crossrail and its architects believe their designs are good, they have nothing to lose in having them design-reviewed."
David Marks, co-founder of Marks Barfield Architects
"We did a number of earlier designs for Crossrail stations. We were brought on board by Transport for London to improve what was being offered but I don't know what influence we had. I'm worried that we're scrimping and saving and are not looking sufficiently to the long-term."
Julian Bell, leader of Ealing council, a London borough with five Crossrail stations including Ealing Broadway
"We've been very rigorous all along in seeking improvements to the stations we've got.
"Design has been on the agenda but a body like Cabe, looking at things independently and adding rigorous standards, would be very welcome."
Julian Lipscombe, director at Bennetts Associates, the architect working on 13 surface Crossrail stations including Ealing Broadway
"We are currently working closely with [local authorities] and Crossrail/Network Rail to maximise the potential of the schemes and would welcome a Cabe design review if requested."