Media reports have suggested line could open by the end of this year
London mayor Sadiq Khan has dashed hopes that Crossrail could open by Christmas.
Reports in the media in recent weeks have suggested the late-running line could be operational by the end of this year – earlier than the current timeframe which is the first half of 2022.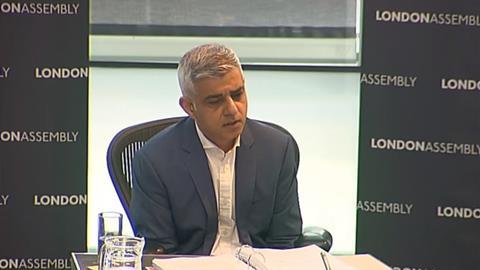 But answering questions from the London Assembly yesterday, the newly re-elected mayor said he did not think the central section of the £18.6bn route would open until next year.
Khan said: "I think we will still need the first six months of next year but everyone is working to finish as quickly and safely as possible.
"I'd be pleasantly surprised if the central section of Crossrail was open by December [but] I think a much more realistic timeframe for opening is the first half of next year, as TfL have consistently said since last year."
Khan added: "I would be worried if my commissioner [Andy Byford] was not pushing the team to go further and faster but I think the most likely outcome at this stage is an opening in the first six months of 2022."
He said that the introduction of full services will be aligned with National Rail timetable changes which happen twice a year – the first next year is on 15 May with the next on 11 December.
Facing questions from Assembly member Caroline Pidgeon, Khan conceded delays to the start of trial running of trains had the potential to cause "knock-on difficulties in finishing the stations and upgrading the software programmes on the new trains".
He said: "What the engineers and the transport team are trying to do is to do all the work required in the time we've got. They will not cut any corners in relation to safety but it is sometimes possible for trial running to be compressed if it's going well."
Khan also admitted there was still no timeline around when the final cost of Crossrail would be known.
He said: "We won't know for a while. The agreement we have with the government is to borrow £825m and the original estimate we had when negotiating with the government was £1.1bn.
"There is a difference between that £825m and £1.1bn. Some of that difference is contingencies and risk that, as we get nearer trial operations, we'll have a better idea of how many of those contingencies and risks will materialise."
He added that as soon as he, Byford and Crossrail chief executive Mark Wild had an indication they were heading towards the top end of that £825m figure they would begin negotiations for additional finances.
The scheme was originally due to open in December 2018 and cost £14.8bn.