Only 750m to go on £15bn rail link's final stretch of tunnelling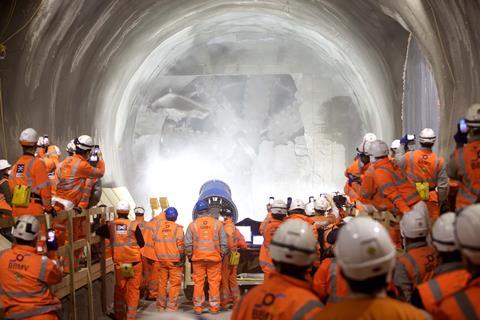 The Crossrail tunnel beneath the City of London has reached Liverpool Street station.
The breakthrough is part of the £15bn rail link's longest tunnel drive, 8.3km from Limmo Peninsula, near Canning Town, to Farringdon.
The tunneling machine, one of two used on the tunnel drive, has 750m left to bore, before arriving at Farringdon station in the spring. At that point, all Crossrail tunnels will be linked for the first time.
The second machine will arrive at Farringdon a few weeks later.
On completion, a total of 42km of tunnel will have been bored as part of Europe's largest infrastructure project. 40km out of 42km have now been constructed.
The two machines each weigh 1,000 tonnes, are 150m long and over 7m in diameter. They are the last of eight Crossrail tunnel machines to have carved a route beneath London linking the West End, the City, Canary Wharf and south-east London.
Andrew Wolstenholme, Crossrail chief executive said: "We are now on the final countdown to the big east/west breakthrough at Farringdon, which will link all of Crossrail's tunnels for the first time. This is a phenomenal feat of civil engineering that London can be justifiably proud of. The next challenge is to implement railway systems across the route, keeping the project on time and within budget."