Sir Stuart Hampson is to step down from his role in the summer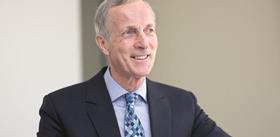 Sir Stuart Hampson is to retire this summer as chairman of The Crown Estate after six years.
Hampson joined The Crown Estate as chair in 2010 and has overseen the transformation of the royal estate in to a commercial business with £12.5bn of assets under management.
He previously spent 12 years as a civil servant before joining the John Lewis Partnership where he was chairman for 14 years.
The Crown Estate is now advertising for a new chair to be appointed by HM The Queen on the advice of the prime minister.
Hampson said: "It's been an enormous privilege to hold one of the best jobs in real estate over the last few years.
"I'm tremendously proud of what has been achieved by Alison and her team, to deliver world leading business and retail destinations, drive investment in the UK's renewable energy industry, actively manage one of the nation's largest rural land portfolios – and ultimately deliver valuable returns to the public finances."
The Exchequer Secretary, Damian Hinds said: "Sir Stuart's insight and experience has been invaluable.
"During his six years, he and his team have visibly transformed The Crown Estate from a traditional landed estate to a modern progressive commercial business. Sir Stuart has given outstanding public service securing £1.5bn for the nation's finances during his Chairmanship."