Hammerson puts back shopping centre scheme by another year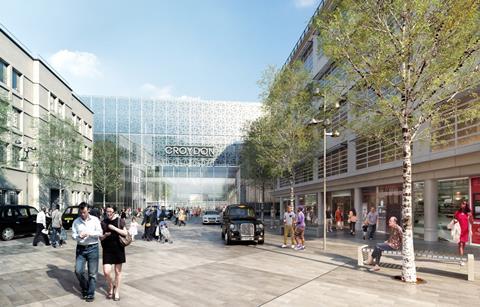 Hammerson has once again put back the start date on its flagship £1bn Croydon shopping centre, due to protacted discussions with local planners and potential anchor tenants.
The developer said it had put back construction on the scheme by a further year to 2017.
Hammerson - which is delivering the 200,000m2 scheme in joint venture with Australian retail giant Westfield - had originally intended to start construction in 2015.
But in an update this morning (15 February), Hammerson said the timetable had been revised due to "the extended planning process and discussions with a number of potential anchor tenants". It is now slated to complete by 2021, rather than by 2020.
Communities secretary Greg Clark confirmed a compulsory purchase order for the borough's tired Whitgift Shopping Centre last September, paving the way for the 7-hectare development.
The proposals include 136,500sqm of retail space, 16,400sqm for leisure facilities, 1,100sqm for community facilities, 1,900sqm of office space and 600 homes.
The design team includes architects Allies & Morrison and Leonard Design Architects, cost consultant Sweett Group and engineer Waterman.
The Croydon scheme is the largest planned retail scheme in the UK. It will provide around two million sq ft of redeveloped space and will have a catchment area of around 2.5 million people in south London and the wider region.
It will be Westfield's third shopping centre in London, after White City in the North-west and Stratford City in the North-east.
Elsewhere, Hammerson said it was hopeful it could win planning permission this Spring for its controversial 270,000 sq m mixed-use Goodsyard scheme in east London, after the city's mayor Boris Johnson called in the scheme last September.
In full-year results for the 2015 calendar year, Hammerson posted a rise in pre-tax profit to £731.6m for 2015, up from £703.1m the previous year.