Annual construction and property event has raised £1.25m for charity since 2006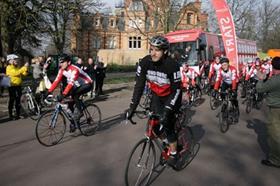 The annual Cycle to Cannes charity ride ahead of the yearly MIPIM property conference is aiming to raise £20,000 for charity next year.
The 1,500km ride brings together participants from across the property and construction industries to raise money for charities.
This year's principal charity is Coram, which helps vulnerable children overcome hardship and trauma.
Article 25, Emthonjeni Trust, Multiple System Atrophy Trust and Tom's Trust are the other charities being supported.
Carol Homden, chief executive of Coram, said: "We are honoured to be the principal charity beneficiary of Broadgate Estates' Cycle to Cannes 2013.
"The funds raised will help us to find and prepare adoptive parents who can provide safe, loving and permanent homes for children who need it most, as well as give school children the skills they need to make healthier choices in life.
"Thanks to the commitment of everyone involved in Broadgate Estates' Cycle to Cannes 2013, we can better the lives of thousands more children. We wish the riders the very best of luck for this event."
Nick Hanmer, chief executive of Cycle to Cannes said: "Cycle to Cannes is a key event for the property industry, raising vital funds for charity.
"Every year we are astonished by the generosity of the businesses and individuals that get involved and we believe that the money raised by the 2013 ride will eclipse previous years.
"The funds will go towards the charities we've been supporting since the ride started, helping them to carry on their work."
This year, the main sponsor is Broadgate Estates while the team sponsors are Aedas, Argent, CBRE Global Investors, DTZ, Elliott Wood and Savills, and the support team sponsor is Knight Frank.
For more information please visit www.cycletocannes.org.