Ecobuild latest: Energy minister says Lib Dems would spend £2bn per year on retrofit if elected this May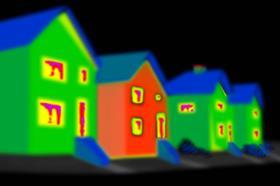 Energy secretary Ed Davey has said a future Liberal Democrat government would spend £2bn a year on a "green homes revolution" to improve energy efficiency in the UK.
Speaking at the Ecobuild conference Davey said the proposals from the Liberal Democrats would be "breath-taking" in their ambition, including a "Green Magna Carta" made up of five green laws, and would see 10 million homes upgraded by 2025.
A Green Homes Bill would include a long-term target to bring all homes up to an EPC rating of C, whatever their tenure, and financial incentives to encourage all home-owners. These would include a £100 council tax rebate for ten years for those homeowners who raise their homes' performance by two bands or more.
Davey said: "I would propose, from around 2017/18, we invest a total of around £2bn per annum in a major investment programme of domestic energy efficiency.
"This approach – new regulation and new investment – could see 4 million homes upgraded by 2020 and 10 million by 2025."
He said the funding would be prioritised only after investment in energy efficiency measures had been re-classified as a national infrastructure priority, as called for by Building's Agenda 15 manifesto. He said: "To end once and for all the institutional bias against energy efficiency investment, Liberal Democrats will reclassify all Government investment in energy efficiency as infrastructure investment – making it a top priority in a new National Infrastructure Plan."
Davey's comments echo Building's own Agenda 15 manifesto, launched in January, which likewise calls for a major programme of retrofit to be classified as a national infrastructure priority. Davey said the move was important because: "no Government this decade will be flush with cash, [therefore] borrowing must remain the preserve of infrastructure spend – spending that will make our economy more competitive and sustainable."
In addition the proposed bill would introduce a "feed-out tariff" for installations of solid wall insulation, and admitted he'd been forced to rein back his green ambitions in government because of being in Coalition with the Conservative Party. "Regulation has a vital role to play," he said, "and in coalition with a Party that has a knee jerk antipathy to regulation we haven't been able to go as far and as fast as we would have liked."
Davey was speaking after announcing a new government Fuel Poverty Strategy.
Green Party leader Natalie Bennett voiced concerns over new housing which is failing to meet energy standards.
Speaking at Ecobuild, Bennett said: "We're building poor quality housing stock, half of which needs to be immediately retrofitted."