Consultant will act as project manager on Amsterdam project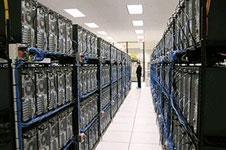 Consultant DBK has secured a role on a €240m (£200m) extension to a data centre in Amsterdam.
DBK will act as project manager and BREEAM consultant on the 25,400 sq m extension to the existing Global Switch data centre in the city.
Global Switch operates nine data centres with 290,000 sq m of floor space across Europe and Asia Pacific.
Work begun last month and the extended facility is due to open in early 2014.
The new building is aiming for a BREEAM Very Good rating.
Neil Grocock, partner at DBK and manager of the new project said: "We are delighted to be working on such a significant expansion for Global Switch. The facility will be highly resilient, energy efficient and obviously built using best practice technologies.
Matthew Horne, regional senior project manager Europe, Global Switch, added: "DBK secured this contract by demonstrating a clear understanding of our sector and its proven track record in delivering projects of this type.
"Flexible in its thinking and practical in its approach we consider DBK an invaluable member of the team for this expansion project."
DBK said it is joining the Data Centre Alliance (DCA), a not-for-profit industry association and accreditation body for the data sector.