Scheme first went in for planning six years ago
A decision on whether the Bishopsgate Goodsyard scheme will go ahead or not is due to be taken by London mayor Sadiq Khan this autumn – six years after the developer first sent plans in.
The 10-acre mixed-use scheme in Shoreditch is being masterminded by a joint venture team of Hammerson and Ballymore which submitted its revised proposals for the City-fringe site to the Greater London Authority last July.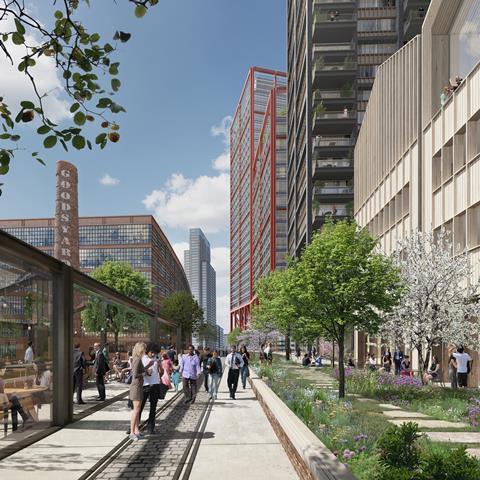 The mayor is the planning authority in the case with the hearing due to be held on 12 November.
Local authorities Tower Hamlets and Hackney are likely to hold their own planning committee hearings on the plans in September or October.
Neither have legal powers to determine the scheme's outcome but their backing will be key in whether Khan decides to give it the green light or not.
The new plans centre on 500 homes of which half will be affordable – an increase on the 15% planned back in 2014.
The revised plans follow the developers' discussions with both local authorities and the GLA after the original application, which proposed close to 1,400 homes, was called in by then London mayor Boris Johnson in 2015.
The following year, the GLA's planning officer recommended planning permission be refused but the mayor agreed to defer the determination to allow the JV further time to evolve the design.
As well as new homes, the scheme will also provide 1.4 million sq ft of workspace in five buildings, including around 140,000 sq ft of affordable space.
The development will also provide a High Line-style public park sitting on top of the restored railway arches that will include a series of connected gardens, terraces and walkways.
Original architect PLP, which was behind the scheme's most controversial proposals, two towers of 46 and 38 storeys, was replaced by Eric Parry which has designed a smaller 29-storey office tower at the site.
It has been masterplanned by Faulkner Browns. Other architects working on the project are Buckley Gray Yeoman, Chris Dyson, and Spacehub while the wider project team includes WSP, Hoare Lea and Gardiner & Theobald.
The site has been empty since a fire in the 1960s and was acquired by the developers from the then Railtrack in 2002.