National Infrastructure Commission chair bemoans scheme's slow progress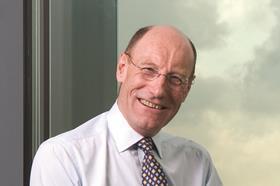 The chair of the National Infrastructure Commission has said a decision on Crossrail 2 must be reached by the end of the year.
Speaking at a summit in London yesterday, Sir John Armitt said it was important for a funding model to be laid out by the end of 2018.
Armitt (pictured), who replaced Lord Adonis earlier this year, said decisions needed to be made in order for the project to open by the middle of the 2030s.
He said: "We want government to ensure that the independent review of the funding and financing of Crossrail 2 is completed as soon as possible, with a view to setting out a firm timetable and funding proposal by the end of this year.
"The next stage of consultation should then follow to enable the introduction of a hybrid bill later this parliament, with the overall aim of opening Crossrail 2 in the early to mid-2030s."
The Independent Affordability Review into Crossrail 2, which was commissioned jointly by the Department for Transport and Transport for London earlier this year, will be led by the former managing director of Thames Tideway Tunnel Mike Gerrard. It is expected to finish this summer.
Armitt also voiced his disappointment in the lack of progress with improving airport capacity over the past 10 years.
He said: "The delays over the last decade in the planning of new national airport capacity is one of the most obvious and often-quoted examples of the problems encountered with infrastructure decision-making.
"It has taken far too long to reach a decision on a third runway at Heathrow: It has been 13 years since a statement of state policy in favour of the expansion of the UK's principal hub airport, and three years since the Airports Commission reviewed the case in detail – we must make progress on this crucial project."
The NIC is expected to publish the first ever National Infrastructure Assessment, a report containing recommendations for how the identified infrastructure needs and priorities should be addressed, in the coming weeks – seven months later than originally hoped.
Five of the 12 infrastructure needs, which were identified in the commission's interim report last year, relate to transport.