MPs and peers were due to review options for overhaul next week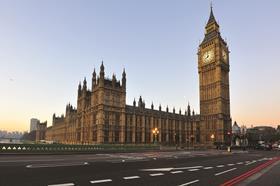 The debate on how to carry out the proposed £6bn revamp of the Palace of Westminster has been delayed.
In November, it was announced this would take place next Thursday (11 January) and would come more than two years after a report, commissioned by both Houses of Parliament, was published looking at options for carrying out urgent renovation works that would take 30 years to complete.
The government had said possible options include a full move-out, a partial move out, which would see one House vacate the building at a time, or retaining some presence in the palace, and using nearby Westminster Hall for the duration of the works.
But a statement from the Houses of Parliament Restoration and Renewal Programme has now said: "The debate to discuss the future of the Palace of Westminster and the urgently needed works, originally set in the Commons for 11 January 2018, has been postponed by the Government to a yet to be confirmed future date.
"The Leader of the House of Commons, Andrea Leadsom, announced before Christmas that the Government will now look to find a suitable alternative date, taking account of representations she had received for the debate not to be scheduled on a Thursday.
"MPs and peers had been due to discuss the future of the Palace of Westminster, which faces major and increasingly urgent repairs. Members from both Houses are awaiting the Government's yet to be published motion, which is expected to allow for a sponsor board and delivery authority to be established, to oversee and deliver the Programme and consider the options for how the work could be delivered."
In 2016, a joint committee of MPs and peers representing both Houses recommended a full move-out of MPs and peers lasting six years.
Last March, MPs on the public accounts committee endorsed the joint committee's recommendation for a full six-year decant, agreeing it was "the most economical, effective and efficient choice" but also criticised the delay by Parliament in getting on with the restoration of the crumbling grade I-listed palace.
M&E repair work is already being carried out as part of the revamp of the Palace of Westminster to ensure it remains safe for use beyond 2020.
A detailed exploration of the condition of the building is also being undertaken, while strategies for building-wide security, asbestos removal, and fire safety improvements are being made.
These works will ensure Parliament is ready to commission design work once both Houses have made a decision over the length of time work will be carried out.
Work will be carried out by architect BDP and a team led by CH2M, which includes consultant Currie & Brown, after the firms won the two client advisory roles to provide architectural and building design services and programme, project and cost management services last summer.