Sean Tompkins in line to pick up more than £260,000 under group incentive plan
High-profile RICS members have again hit out at the organisation, criticising its decision to award its chief executive a six-figure bonus.
Sean Tompkins was given a £70,000-plus bonus in January despite the organisation claiming government furlough cash and making redundancies last year.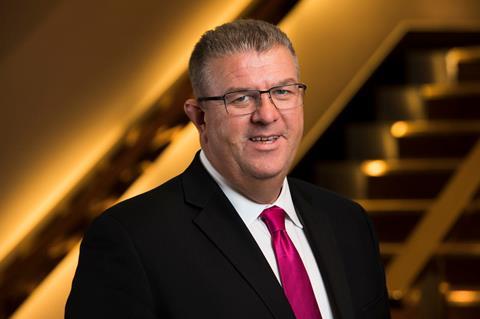 The group's recently published remuneration report for the year to July 2020 reveal Tompkins was handed £73,911 in January this year as part of the group's 2019/20 incentive plan.
The report added that he will pocket another £189,720 next year under a deferred part of the plan – although this is subject to certain performance conditions being met.
He also received an annual salary of £254,341, down 2.1% on the previous year, after taking a 15% pay cut for six months because of the covid-19 pandemic. His salary was later restored to £264,250 at the beginning of last November.
Gleeds chairman Richard Steer said the bonus payment was "unfortunate [and] clumsy" and that it would "provide more ammunition for critics of the way the RICS is managed".
A RICS spokesperson said the timing of the announcement could not be helped as "the publication of these documents is in line with the RICS reporting cycle".
She added: "Although the Royal Charter status held by RICS does not require disclosure of executive reward, RICS believes in adhering to the highest standards of corporate governance. As such, this report has been prepared by the remuneration committee and is presented on a voluntary basis."
But Steer said the news could not have been more ill-timed: "Since it is currently in the midst of an investigation into perceived poor management practice, to be seen to reward those who are currently under review seems perverse at best and lacking emotional intelligence at worst."
And long-time critic Paul Morrell, the UK's former chief construction advisor, said: "I cannot imagine anyone being supportive of it [the bonus] except for the small circle who designed and administer the formula. At best it is extraordinarily insensitive, coming on top of a remuneration package that is already beyond the dreams of most members – particularly in the circumstances of the last year.
"At worst, it is the result of being locked in to a poorly designed and inflexible bonus scheme that is completely unaligned with the real interests of members."
He added the bonus "look[ed] like a failure of governance" and said the issue should form part of the external review into the group which is being carried out by Alison Levitt QC.
The boss of another QS added: "They've not covered themselves in glory recently. I'm sad, dismayed, shocked and angry by it all."
RICS implemented a number of measures to shore up its books during the pandemic, putting around 30% of its UK employees on furlough and making around 100 members of staff redundant.
Geraldine Kelly, chair of RICS remuneration committee, said: "In 2019-20, there was strong performance against most of the performance objectives and the committee noted that eight months of the year under review were before covid-19 had an impact on the organisation. We confirmed that RICS had achieved the operating surplus in the management accounts, excluding any government supports, needed to trigger the incentive plan."
The group's latest accounts show that in the year to July 2020, turnover fell from £91.3m to £88.4m with pre-tax losses narrowing from £4.3m to £800,000.
Levitt's review was ordered after a critical 2019 report, by accountant BDO, warning the organisation that it was at risk of "unidentified fraud, misappropriation of funds and misreporting of financial performance", was allegedly suppressed by the RICS.
It emerged late last year that four RICS non-executive directors had been ousted from the institution's governing council after raising concerns as to why the report had not been shared.
Those wanting to submit evidence have until 19 May to do so with Levitt due to file her report by the middle of June. For those wanting to contribute evidence, the review has set up a secure and confidential email address at contact@LevittQCIndependentReview.co.uk