Derwent London has purchased Aldgate Union for £132m as RBS culls its property portfolio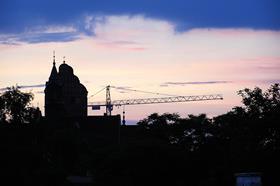 Developer Derwent London has acquired the freehold of Aldgate Union on Whitechapel High Street, London, for £132m from the Royal Bank of Scotland (RBS).
The bank appointed advisory firm DTZ at the end of 2014 to sell the building with a guide price of around £85m as it sought to cut costs.
Derwent London will take vacant possession of the building in December 2015 at a price that reflects a capital value of £518 per sq ft, following the departure of RBS. It will undertake a "modest" refurbishment before re-letting it.
The eight-storey building sits on one acre within London's "tech belt" providing 255,000 sq ft of space opposite Aldgate East underground station.
John Burns, chief executive at Derwent London, said: "We are delighted to have acquired a prominent property in this fast improving Whitechapel location which increases our Tech Belt holdings to 2.4 million sq ft. Although soon to be vacant the building is in good condition and we expect to quickly re-let it on a multi-occupier basis after modest refurbishment. As with most of our recent purchases this property offers significant longer term regeneration opportunities and adds to our future development pipeline."