Developer has brought two sites in the city's Knowledge Quarter
Derwent has signalled its confidence in the London commercial market, announcing the purchase of two major sites, the signing of a new joint venture agreement and a bumper profit for the first half of the year.
In its interim results update for the six months to June the developer reported a significant improvement in its profit position on the covid-ravaged equivalent period last year.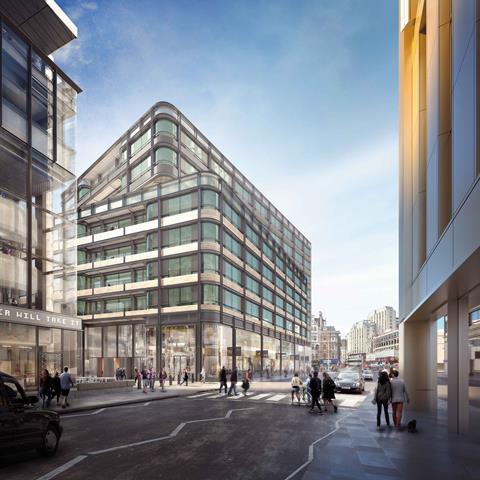 In the period to 30 June 2021 Derwent reported pre-tax profit of £121m – up from a loss of £14m in the same six months last year.
The firm said: "The recovery in confidence and activity is reflected in a significant improvement in our financial results compared to H1 2020 when the first impacts of covid-19 were being felt.
"These aspects have encouraged us to increase the interim dividend by 4.5% to 23.0p per share, where it remains well covered."
The developer has also announced the purchase of two developments in the London Knowledge Quarter – the small area around Euston Road, King's Cross and Bloomsbury which has a very high concentration of academic, cultural, research, scientific and medical organisations.
Derwent has exchanged contracts to acquire two properties totalling 182,100ft² for £215m inclusive of costs.
Paul Williams, chief executive of Derwent, said the acquisitions signalled the firm's confidence in the strength of the market.
He said: "We are further investing in central London's Knowledge Quarter with potential life science opportunities and extending our development pipeline.
"We are confident that combining our skills with our strong long-term relationships with Lazari Investments, UCLH and the Portman Estate will ensure these growing West End areas continue to benefit from the provision of best in class, high quality and sustainable business accommodation."
In an announcement, Derwent said: "The combined rent is £5.3m pa, or £30 per ft², reflecting a net initial yield of 2.5%. The two acquisitions offer considerable opportunities for asset management and longer-term development opportunities."
The firm said it had signed a detailed memorandum of understanding with Lazari Investments to establish a new 50:50 joint venture that is expected to acquire three properties already owned by them in Baker Street totalling 122,200ft².
Derwent's initial consideration for the joint venture will be £64.4m inclusive of costs and its share of passing rent will initially be £2.6m.
The firm said: "We will continue to focus on the pre-letting campaigns for the offices at The Featherstone Building EC1 and the retail at 1 Oxford Street (Soho Place) W1 (together 161,000ft²); commencing our next major net zero carbon development at 19-35 Baker Street W1 which totals 298,000ft² and continuing the progress to becoming a net zero carbon business by 2030.
"On the back of our strong financial position we have made a positive start to the second half, and we can now finalise our plans for Network Building for a 2022 development start, preparing to submit plans for Bush House and embedding the Lazari transactions into our portfolio."
Looking ahead to the next 12 months, Derwent said that while it was awarding a number of new construction contracts covering projects commencing in 2021 and 2022, it was assuming a higher rate of construction cost inflation than in recent years for both materials and labour costs.
It said it had mitigated this in the past with fixed-price contracts and by working closely with contractors.
The developer said that while construction cost risk – with the exception of government tariffs – sat with its main contractors, early ordering and offsite holding facilities were in place for its development projects.