London developer will construct two new schemes in 2013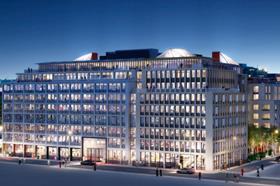 London developer Derwent has unveiled plans to build a £150m Make-designed scheme in Fitzrovia next year.
The proposed development at 80 Charlotte Street will comprise of 323,000 sq ft of offices and 14,000 sq ft of private residential units.
Derwent said the scheme – which gained planning in September 2011 – was in the final stages of design.
The firm said it will also begin work on a 21,400 sq ft residential and retail development in Westbourne Grove in the west of the city next year.
Derwent also said it will submit plans for £250m 1-5 Grosvenor Place in 2013 – which Turner & Townsend is project managing.
Derwent said: "The pipeline is focused on mid-market rents, in areas where there are transformational transport links such as Crossrail and in the vibrant London villages of the future.
"Together with the good design that is so central to the spaces that we provide, we believe these factors will continue to attract a range of tenants, including those from the creative industries which are an important part of the London economy.
"We consider that these components, combined with the management team's experience and skill, provide excellent prospects for future growth."