But cost of building to 2030 standards is significantly higher
Designing today's buildings to 2025 net zero standards would save money in the long-term, a new report has found.
Analysis by the UK Green Building Council found that new schemes built to 2025 net zero performance targets would see reduced long-term costs by avoiding the need for costly retrofits at a later date.
The report, Building the case for net zero: A feasibility study into the design, delivery and cost of new net zero carbon buildings, also found that any extra cost incurred at the design and construction stage would likely be "at least recouped" through increased rental returns and reduced operational costs.
The team, which included expert engineers, designers and cost consultants, looked at two real-life buildings at design stage, one residential and the other an office building.
It looked at how much it would cost to re-design the buildings to meet both 2025 and 2030 net-zero standards.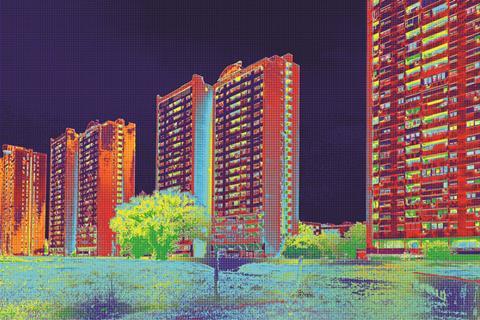 It found that meeting 2025 standards would increase costs by 3.5% for the residential building and 6.2% for the office building.
The team arrived at the numbers based on the added expenses of replacing gas boilers with heat pumps, improving fabric insulation and reducing the amount of windows.
For the office building, the figures were based on the cost of replacing the conventional steel and concrete structure with a hybrid steel and CLT superstructure, removing suspended ceilings and installing active chilled beams, which provide more efficient ventilation and air conditioning.
UKGBC chief executive Julie Hirigoyen said: "This study provides long-awaited evidence that building today to the standards of energy and carbon efficiency required by 2025 doesn't have to cost a fortune and is likely to be offset by enhanced value".
But designing buildings to 2030 standards was found to be significantly more expensive, increasing costs by 5.3% for the residential building and as much as 17% for the office building.
The UKGBC said this highlighted the need for supply chain innovation and investment to scale the market for low-carbon technology in order to bring down costs over time.
To overcome the costs of building to 2030 standards, Hirigoyen said: "We need a long-term consistent regulatory trajectory that tightens standards over time so as to provide the certainty and level playing field required for the supply chain to innovate and costs to come tumbling down.
She added: "Yet again, we are reminded that more visionary policy-making and bold industry leadership must go hand in hand in the quest for net zero carbon outcomes."
The study has been published as the UK's first climate assembly published its recommendations for achieving a net zero economy.
The assembly's final report called for increased government investment in low-carbon forms of transport, including trains, increased prioritisation of wind and solar energy and limits on investment in high-carbon industries.