Exclusive: University of Warwick selects four consultants for its £92m National Automotive Innovation Campus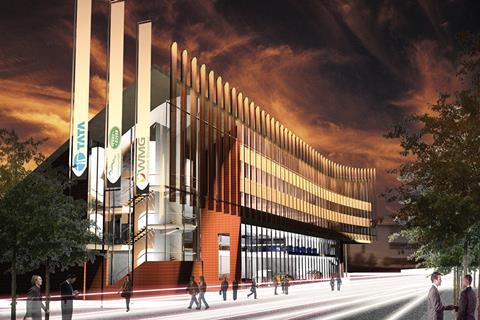 Rider Levett Bucknall, Cullinan Studio, Arup and Buro Four have been appointed as the design team on a £92m automotive research centre at the University of Warwick, Building can reveal.
The four consultants will lead the design and project management of the National Automotive Innovation Campus, which is funded by the government, Jaguar Land Rover (JLR) and Tata Motors (TM).
Research on the campus will focus on technologies to reduce the dependence of cars on fossil fuels and cut carbon emissions. The project was first announced by chancellor George Osborne at the 2012 Conservative Party conference.
Rider Levett Bucknall will lead the design phase and project manage the construction process, Cullinan Studio is the architect, Arup is the engineer and Buro Four will provide project management support. The 15,000m2 building will be procured to a contractor through OJEU in the coming months, with start on site targeted for the fourth quarter this year.
This is one of the most exciting education-led capital projects in the UK

Steven Jenkins, RLB
The Rider Levett Bucknall team successfully bid for its place on the project through the Government Procurement Service framework, beating seven other applicants.
Government funding will be supplied via the £200m UK Research Partnership Investment Fund, with the remainder supplied by JLR and TM.
The project is part of the university's masterplan, approved by the local planning authority, to increase its estate by 170,000m2.
Steven Jenkins, partner at Rider Levett Bucknall and key project lead, said: "This is one of the most exciting education-led capital projects in the UK, not least due to its size and scale. It will play an instrumental role in cementing the Midlands as an automotive hub."
Peter Inglis, project architect from Cullinan Studio, said: "This is a fascinating opportunity to create a building that will allow industry and academia to collaborate on research and teaching in the same place, a place that will encourage innovation across disciplines."