Argent Related will reveal proposals for the first new homes on the site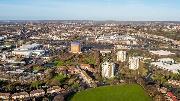 Developer Argent and its American partner Related will hold a public consultation over the next week to view the first concept designs for the pair's Brent Cross South scheme.
The development is part of Barnet council's £4.5bn regeneration of the Brent Cross area of north-west London.
The scheme was previously called Brent Cross Cricklewood but was split into two back in 2014 with the plot north of the A406 North Circular road – which includes the 1976 shopping centre – now being developed by Hammerson and its partner Standard Life.
Argent and its US rental property firm partner are working on the other half with this part seeing nearly 6,700 new homes, parks, community facilities and a new high street built. It is being delivered in joint venture with the local council.
As part of Brent Cross South, two residential buildings designed by Maccreanor Lavington, which will include replacement homes for residents on a local estate, are targeting a construction start date of 2018. Designs for a new Thameslink train station will also be on display which the council is now aiming to deliver by 2022 instead of 2031.
David Partridge, joint chief executive of Argent Related, said: "The new Thameslink station is a critical part of the regeneration and repurposing of the entire Brent Cross area, and the views of the community are a vital ingredient; we look forward to hearing them, and weaving them into our plans."
In May, Hammerson submitted plans to revamp the 40 year old shopping centre which have been designed by Callison RTKL and Chapman Taylor.
The work will see the centre doubled in size to 186,000sq m with over 7,600 car park spaces.
It will include a new Marks & Spencer store to go alongside other flagship tenants John Lewis and Fenwick – while the bus station will be enlarged and relocated. A new cinema and hotel will also be built along with around 400 homes and a riverside park.
Building revealed last month that Laing O'Rourke, Multiplex and Sir Robert McAlpine are all bidding for the £1.4bn revamp.
Council leader Richard Cornelius said: "After many years of planning, it is exciting to see substantial progress being made to transform this area."
The public consultation events for Brent Cross South are being held at a variety of venues across the borough between now and next Thursday.