A British subcontractor died while working on the Khalifa International Stadium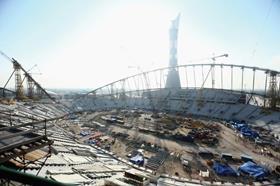 New details have emerged about the British worker who died on a Qatar World Cup stadium project last week.
Midmac-Six Construct, a joint venture working on the Khalifa International Stadium, said a worker from one of its subcontractors was fatally injured while working on the scheme.
In a statement, the JV said the fatal accident took place while the worker was on a suspended catwalk platform designed to manage technical functions relating to sound and light installations.
The JV added: "For unknown reasons one of the lever hoists supporting the platform failed, causing the fall of the worker, who was wearing all his safety equipment, including the safety harness. Sadly, the harness was cut during the fall with a fatal outcome.
"What caused the cut is subject to further investigation. Emergency services and Health and Safety teams were summoned immediately.
"Our people are working closely with the local authorities as they investigate the circumstances of the accident."
The statement continued: "All of the partners involved in this project are devastated by such a tragic loss of life and we extend our deepest condolences to the victim's family, friends and colleagues."