Developer to press ahead with second phase of major speculative office scheme in Hammersmith as demand for office space picks up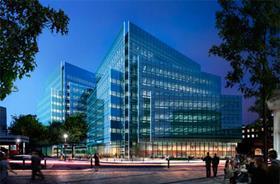 Development Securities will increase its focus on building large-scale office developments in London over the coming years, the firm's chair has announced.
While reporting the firm's interim results to the City, chair David Jenkins said demand for office space was "strengthening in fringe locations of Central London", which meant the firm had to focus on the sector.
He said: "There is evidence over recent months that some of the lights are coming back on within the UK economy.
"London, with its population growth and status as a leading global city, has benefited from positive GDP growth for some time now and, with a steady influx of foreign capital and further infrastructure improvements, this seems set to continue.
"Outside of London, however, concerns remain as to whether this incipient economic recovery is sustainable."
He said there was no evidence of improved productivity outside of London, which he said was still 5% below its pre-recession peak.
Jenkins said the first phase of its major speculative office scheme in Hammersmith, 10 Hammersmith Grove, had reached practical completion and it would now press ahead with the second phase.
Jenkins said: "Given our progress, we are now priming the second phase, 12 Hammersmith Grove, a 165,000 sq ft grade A office building for commencement in early 2014.
"As with 10 Hammersmith Grove, this speculative development will be forward-funded with an institutional partner prior to commencing construction."
In the six months to 31 August 2013, Development Securities reported a pre-tax profit of £8.1m, up from a loss of £700,000 over the same period last year.
However, it also reported a fall in revenue from £57m to £33m over the period.