Henderson's lease on the buildings does not expire until 2020 and that the developer may decide to hold on to the site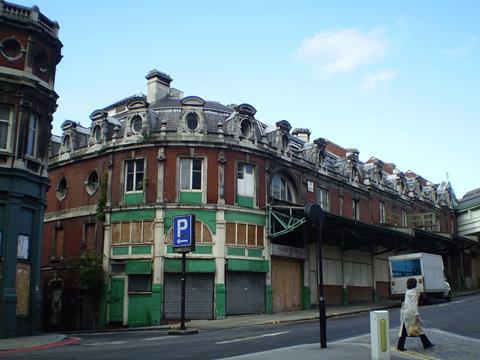 The future of Smithfield market is in doubt after it emerged that Henderson's lease on the buildings does not expire until 2020 and that the developer may decide to hold on to the site until then.
The developer, whose redevelopment of the site was rejected by the secretary of state yesterday, also has a 999-year lease on the basement, putting it in a strong position to carry out its threat to leave the site in Farringdon empty.
It currently rents out the basement to Crossrail, which uses it as part of the neighbouring construction site, and BD understands this brings in enough money to cover its costs.
But president of campaign group Save, Marcus Binney, accused Henderson of having a "real sulky dog attitude" and threatened to get a repairs order served on them.
"It's a very unfriendly thing to do to London which shouldn't have boarded-up sites looking little better than bombsites just because people won't use or relinquish buildings.
"It's been through the entire planning system and a public inquiry and the inspector ruled that there had been deliberate neglect.
"This is not a responsible way to deal with a heritage asset and if necessary we'll press for a repairs order to be served on them."
Chris Costelloe, director of the Victorian Sociey, said he was hopeful that "reason and rationality will win" and that Henderson would choose to dispose of the site.
Yesterday Henderson and its architect John McAslan & Partners unexpectedly lost a public inquiry after communities secretary Eric Pickles ruled that their £160m proposals were "wholly unacceptable".
The minister agreed with the inspector's conclusion that there was "no pressing need for offices in this particular location sufficient to justify such a harmful intervention".
Geoff Harris, head of development at TIAA Henderson, accused its opponents of running a "disingenuous campaign" and said the McAslan scheme was backed by English Heritage, Cabe, the City of London, the mayor and Smithfield Market Tenants' Association.
"Our scheme would have saved and brought back to life these Victorian market buildings that have lain empty for decades," he said. "This decision will condemn these disused historic buildings to continued decay and yet further uncertainty."
A source close to the developer said Henderson rejected the inspector's report outright, along with its contention that a rival proposal put to the inquiry by developer Cathedral, architect Burrell Foley Fischer and market entrepreneur Eric Reynolds was "possible, viable and deliverable".
Henderson's view is that there is no credible alternative and that the best thing for its shareholders would be to sit on the site and draw a rental income, said the source.
Costelloe said six years was "quite a lot of crumbling time" but pointed out that the lease obliged Henderson to maintain the buildings.
"I can understand they are feeling a little sore but it's in no one's interest that this site lies empty," he said.
"They are a major developer and I don't think they are going to act spitefully. It wouldn't do their reputation or their balance sheet any good.
"Much better to put it on the market and allow a conservation-led scheme to emerge that would reanimate the area."
This story first appeared on Building Design.