Notting Hill Housing Trust and Barratt working with HTA, Hawkins Brown and Mae Architects wins 4,200-home Southwark redevelopment job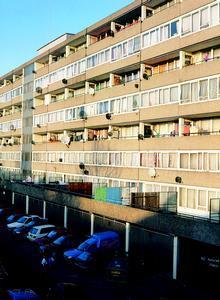 A team led by housing association Notting Hill Housing Trust has been appointed development partner for the plan for a 4,000-home transformation of the Aylesbury Estate in Southwark.
Notting Hill working with Barratt Homes and its architects HTA Design, Hawkins Brown and Mae Architects was selected by Southwark council for the job after an 18-month procurement process.
The consortium beat a rival team comprising housebuilder Countryside with registered providers L&Q and Peabody and their architects Allies & Morrison and Maccreanor Lavington to the award.
The project will see the existing estate, one of the most deprived in the UK, redeveloped with a new masterplan and a net increase of homes from 2,400 to 4,200. The council described the project as "one of the most historically exciting and large-scale projects the capital has ever seen."
Notting Hill will be required to make a minimum of 50% of the homes affordable, three quarters of which would be for social rent, and the rest to be shared ownership or shared equity. In addition a minimum of 30% of all the homes have three bedrooms or more.
The Aylesbury Estate was the site of one of Tony Blair's first speeches as prime minister in 1997, where he promised action to improve the estate, and that there would be "no more forgotten people",
However, the regeneration scheme was beset by setbacks during Labour's time in office, and £181m of promised government funding was cancelled when the coalition government came to power in 2010, forcing the local authority to start again with attempts to improve the area.
Harriet Harman, Labour's deputy leader and MP for Camberwell and Peckham, said the appointment was "welcome news."
She said: "Many of us remember only too well when Tony Blair stood on the balcony of a flat in the Aylesbury estate promising that "there would be no more forgotten people". But despite the great work of many of the tenants, change has taken a long time. And for so long tenants have had to put up with dark walkways, heating breaking down and rubbish chutes not working.
"Today's announcement really seems like the light at the end of the tunnel."
Kate Davies, chief executive of Notting Hill Housing Trust, said: "We're excited about developing a vision for the area with the people who know it best – the residents, the Creation Trust, the Council and their team – and delivering that vision through our team's combined experience of leading transformation across the capital. We will bring our creativity, expertise, and financial strength to this partnership and reconnect this community with the city to which it belongs."
The L&Q, Countryside and Peabody consortium will be retained as reserve partner.