Stanhope planning £200m overhaul of 1980s building on behalf of Dubai owner
The Dubai owner planning a revamp of the 1980s building has vowed to carry on with the project despite the decision to list it.
The building, next to the National Theatre on London's South Bank, was given grade II protection last week after a campaign by the Twentieth Century Society.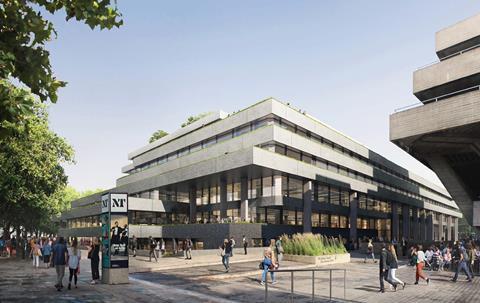 The conservation group objected to a series of changes that were proposed by AHMM on behalf of its client Wolfe Commercial Properties Southbank.
Stanhope is developing the scheme on behalf of Wolfe and had been expected to begin talking to contractors about the £200m construction contract towards the end of this year
A spokesperson for Wolfe said it planned to carry on with the project while acknowledging that the plans submitted in February would have to go through a new process of consultation.
In a statement, it said: "We remain confident that we will be able to sensitively restore and modernise this 1980s building. Fundamentally, our proposals are based on the respectful adaptation of the existing building, creating significant improvements to its setting within the conservation area and upgrading the building to create flexible workspace and to make it more sustainable.
"We remain committed to our proposals which will deliver space for additional jobs, create an enhanced pedestrian experience for visitors to the South Bank and unlock huge economic benefits for Lambeth. We will be discussing with Lambeth council and [government heritage adviser] Historic England the most appropriate manner in which to bring forward these proposals which are widely supported."
Work on the building, which sits between ITV's London home and the National Theatre, will go out to tender once IBM has moved its staff out. It is not clear whether the firm will move back or look for new, permanent space elsewhere in the capital.
Others working on the job include consultant Exigere, Heyne Tillett Steel as structural engineer and Watkins Payne as M&E engineer. CBRE is planning consultant while Butler and Young is approved inspector.
The IBM building, which is the firm's European headquarters, was once owned by Alan Sugar, whose real estate arm Amsprop sold it to UAE investors seven years ago in a deal understood to be worth around £120m.