Client plans development push as it reports 24-fold jump in profit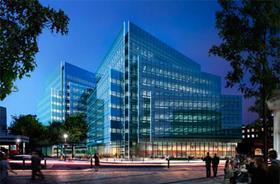 Development Securities has amassed a pipeline of 40 development projects, the firm disclosed as it reported a 24-fold jump in profit to £19.5m for the year to 28 February 2014.
The client said the pipeline was mainly focused on London and the South-east "with an emphasis on residential and foodstore-led mixed-use projects where planning change of use is the key driver to value growth".
Planned projects include the redevelopment of Algarve House, a derelict office building adjacent to Southwark underground station, and an undisclosed development opportunity in central London that the firm acquired for over £75m earlier this month.
Development Securities also said it will start work on 167,000 sq ft 12 Hammersmith Grove office scheme in west London "imminently" with completion expected in the first quarter 2016.
The scheme is part of its overall Hammersmith Grove project (pictured), the first phase of which is complete.
Michael Marx, chief executive, said: "We have an extensive portfolio of projects that is set to deliver strong gains in the coming years.
"With the UK economy continuing to strengthen and some enhanced liquidity returning to real estate markets outside London, we have accelerated our program of asset disposals within our investment portfolio.
"This will allow us to recycle capital into further investment opportunities that offer enhanced growth prospects."