Move set to spark huge amount of interest with firms given until early next month to apply
The Department for Education has fired the starting gun in the race for its eagerly anticipated £7bn construction framework across England.
The four-year deal will replace its £8bn schools framework, which has been running since 2017, and is made up of 22 lots, divided by value and geographic area.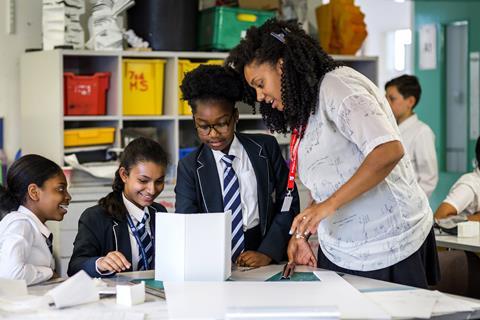 The work is set to prompt a huge amount of interest as it is seen as key to helping the country build its way out of the covid-19 pandemic.
A contract notice said: "This [framework] will include the delivery programme and buildings for schools, academies, university technical colleges, sixth form colleges, further education colleges and other educational facilities.
"The construction framework may also be used by the other contracting authorities referred to in terms of wider publicly funded buildings in England which may include health, law and order, military, civic and other community facilities."
Bidders are allowed to apply for any lot at selection stage and may be invited to tender for any lot – but may not be appointed to "overlapping lots", which will be defined during the procurement process.
High-value projects are split across two lots covering the north and south of England, with documents saying firms can bid for and be appointed to both lots.
The northern lot has a maximum value of £1.25bn, while the southern region is worth £2.25bn.
Similarly, firms can be appointed to all of the medium-value and low-value lots respectively but the lots they are awarded will impact what lots they can win at other value levels.
Between four and eight firms are expected to be appointed to each lot.
Firms have until 5 February to register their interest.
DfE Construction Framework
High-value bands:
North, worth £1.25bn
South, worth £2.25bn
Mid-value bands:
North-east and Yorkshire, worth £300m
North-west, worth £150m
West Midlands, worth £200m
East Midlands, worth £200m
East of England, worth £300m
London, worth £720m
South-east, worth £400m
South-west, worth £250m
Low-value bands:
North-east of England, worth £75m
Yorkshire and the Humber, worth £75m
East Midlands, worth £60m
East of England A, worth £60m
East of England B, worth £75m
London, worth £150m
South-east of England A, worth £150m
South-east of England B, worth £75m
South-west of England A, worth £50m
South-west of England B, worth £60m
West Midlands, worth £75m
North-west of England, worth £75m