The £30m Discovery building is the latest addition to BioCity's Nottingham campus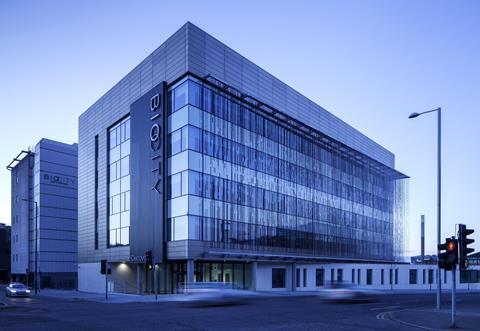 The £30m life sciences building at BioCity's life sciences hub in Nottingham has opened.
The latest five-storey addition to the complex named the Discovery building features on its façade an installation by Nottingham artist Wolfgang Buttress based on the research of Dr. Martin Bencsik from Nottingham Trent University.
The Brise Soleil façade includes a fibre optic lighting system that is hooked up to two NASA satellites which are monitoring the surface of the sun for solar flare activity. This will enable the sun's activity in real time to be reflected on the façade of the building with the colours evolving and transforming over the 26.5 day period that is the sun's rotation on its axis. The artwork will light up at night and by day act as a sunscreen.
The building's energy needs will also be met by the burning of the city's waste as it is connected to the district heating system.
Consultant Gleeds provided cost and project management services on the build.
Councillor and leader of Nottingham City Council Jon Collins said: "It speaks volumes to Nottingham's progress that we are able to open not only 50,000 ft² of new lab space, but we have a unique display of what scientific discovery can create from such a renowned artist as Wolfgang."
Anthony Cork, director at Gleeds, said: "We are very proud to have been a part of the development of another building that will attract further regeneration and investment into the Eastside of the city."