Trade body reveals financial upside of apprenticeships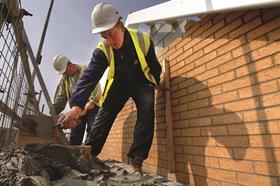 Employers should be targeting secondary school students to plug skills gaps in the trades by spelling out how much money they will earn, according to the Federation of Master Builders (FMB).
Research carried out by the FMB should that some brickies in London were getting paid as much as £90,000 a year.
Brian Berry, chief executive of the FMB, said: "Money talks and when it comes to annual salaries, a career in construction trumps many university graduate roles.
"The average university graduate in England earns £32,000 a year whereas our latest research shows that your average brickie or roofer is earning £42,000 a year across the UK. Pursuing a career in construction is therefore becoming an increasingly savvy move."
He said employers should be flagging up the sorts of salaries school leavers could expect to earn in the industry.
Berry said: "University students in England will graduate with an average £50,800 of debt, according to the Institute for Fiscal Studies, while apprentices pass the finish line completely debt-free. Not only that, apprentices earn while they learn, taking home around £17,000 a year.
"We are therefore calling on all parents, teachers and young people, who too-often favour academic education, to give a career in construction serious consideration."
He added the current skills crisis was providing apprentices were a certain amount of job security. "Our latest research shows that more than two-thirds of construction SMEs are struggling to hire bricklayers and 63% are having problems hiring carpenters."
National Apprenticeship Week begins today and will run until Friday.
Construction vs University Graduate wages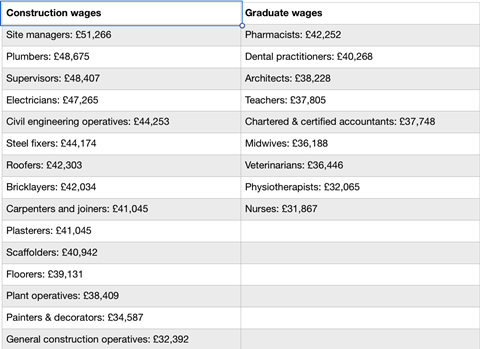 Source: FMB (Average wages)